Distantsi esimesel poolel hoidsin ego tagasi ning ütlesin endale, et usalda treenerit. Distantsi teisel poolel mõtlesin, kas nüüd või mitte kunagi.

On the first half of the distance I told to myself: "Trust the coach!" On the second half: "Now or never!"
Pühapäeval saavutatud Euroopa meistrivõistluste maratoni 9. koht, uus isiklik rekord 2.15.16 ja Eesti kõigeaegade teine tulemus, on minu jaoks suur kordaminek.
Being 9th in European Athletics Championships in marathon is a huge achievement for me. The final time was my new PB 2.15.16 and Estonian all time second result.
Nimetaksin seda minu meeskonna professionaalsuse töövõiduks. Olin asjatundjatega kõik võimalikud detailid läbi töötanud: võistluseelne ja võistlusaegne toitumine, toimetulek kuuma kliimaga, hetkevõimekuse hindamine, rajaga põhjalikult tutvumine, pidev treeningute monitooring, mäestikulaager, alpitelk, varasemate meistrivõistluste statistika, psühholoogilised abivahendid ja suureks abiks olid ka varasemad kogemused maratonivõistlustelt.
 
This victory was not my individual achievement, but it was a result from the professional teamwork.
We left no stone un-turned, ice vests, ice bags in the hats every 5k or so, exact amounts of fluids in the bottles, etc. We had tested everything.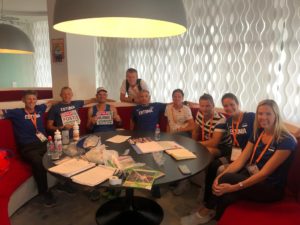 Maraton on meeskonnatöö. Päev enne võistlust istusime koos oma rajaäärse tugipersonaliga maha asju arutama.

Preparing for the marathon is a teamwork, the day before we had a team meeting with our staff who helped us out during the race. 
Võistlustaktika pandi paika võistluseelsel päeval, kui laual oli kogu vajalik info. Treener Mark Mischiga leppisime kokku, et distantsi esimesel poolel jooksen 3.12 kilomeetri kohta ning teisel poolel lähen niikuis jõuan. Poolmaratoni läbisin ajaga 1.08.10 ja teise poole 1.07.06. Kui poolel distantsil olin 39. kohal, siis tundub lausa ime, et finišeerusin 9. kohal. Reaalsuses nii oligi planeeritud, ime on pigem see, et kõik nii läks nagu planeerisime. Distantsil oli ka mitmeid väljakutseid, näiteks kahel korral pidin tegelema maksapistetega. Õnneks suutsin hingamisrütmi muutes need probleemid seljatada. Jooksu raskendavaks asjaoluks oli parajalt soe päikeseline ilm ning distantsi teisel poolel üksinda töötamine. Võistlustrass oli piisavalt tasane, et kiiresti joosta.
The race tactics was decided with coach Mark Misch the day before after having all the important information. The half marathon time was 1.08.10 and the second half 1.07.06. On the half way I was on the 39th position. Its seems miracle to finish 9th overall, but it wasn't. We planned it! The miracle was that our plan worked out!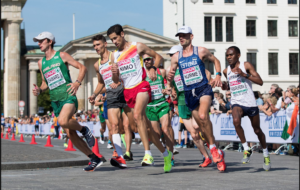 Stardis oli 72 meest, kellest lõpetas 58.

O

n the starting line there were 72 runners, 58 finished.

Foto: Liis Teimann
Selle saavutuse emotsionaalne aspekt. Mäletan selgelt eelmise aasta septembrikuu palvehetke, kui olin äsja Kolgata Baptistikoguduses pastori abina tööle asunud. Teadsin, et võtan lisakohistustega suure riski ning kardsin et minu sporditegemised kannatavad ülekoormatud elu tõttu. Meie koguduse pastor Leho palvetas selliselt: "Jumal, palun lase Tiidrekul korda minna ka muudes eluvaldkondades!" See palve on mind kandnud terve aasta vältel. Olen kõvasti trenni teinud, koguduse juures kaasa aidanud, treeninglaagrites käinud ning tagatipuks ka kolmanda lapse isaks saanud. Täna olen elus ja terve ning õnnestunud nii kodus, koguduses kui ka sporditegemistes.
The emotional aspect from this experience. I clearly remember the last September when I was praying at our church office with my pastor Leho. After being employed as a pastor's assistant I had some fears. I knew that taking some more responsibilities will affect my sports doings. The pastor's prayer was: "Dear God, please help Tiidrek to be successful in other life areas too." Trough out the year I have been training a lot, working a lot at the church, having the training camps and above all – our family got our third child. Today I am healthy and successful at home, sports and in my church responsibilities. The pastor's prayer has answered!
Koos perekonnaga oleme seda teekonda käinud, olgu siis juba lõpuni.

Everything I have done, I have done with the family – until the end!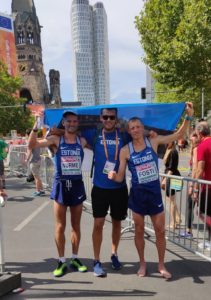 Õnnitlused Romanile, kes lõpetas 17.kohal, elu teise ajaga. Kaks eestlast top 20 hulgas. 

Congratulation for Roman who finished 17th with the lifetime second result.

Two Estonians in top 20.
Maratonijooksjana olen veel pisut toores ja pigem algaja, seega usun et palju häid tulemusi on veel ees. Unistan osalemisest oma kolmandatel olümpiamängudel Tokyos 2020.
I will continue my marathon career. I believe I am capable to achieve some more great results in God's willing. My dream is to take part of my third Olympic in Tokyo 2020.
Tänan kõiki kaasaelajaid sellel suurepärasel teekonnal.
Thank you all who have been supporting me trough out this adventure.
Nimeliselt mainin ära minu praegused meeskonnaliikmed:

Here I bring out some names and sponsors:
Treener

(coach)
Mark Misch
Treener ja mänedžer
(coach and manager)
Harry Lemberg
Vaimulik mentor
(spiritual mentor)
Brad Bartz
Massöör

(masseur)

Peeter Nigol
Spordiarst
id
(sports doctors)
Agnes Mägi
,
Nadezhda Ignatjeva
ja Mihkel Mardna
Abikaasa

(wife)

Maili koos lastega

(children)