My year of sport started with a bang in the marathon of Sevilla, when I crossed the finish line with a time of 2.10.02 that qualified me for the Olympics. The emotion emerging from the achievement was genuine – thanks be to God that He takes my desires into account! Sports physiologists were not as surprised by the achievement, since I have been granted a talent with which these kinds of accomplishments could be predicted. Nevertheless, not everything is as clear as on paper. Crowning achievements are realized when good things come together. Most importantly – excellent kilometres must be run! The camp before the competition was organised in Kenya, my 20th training camp in that country. In addition to training, I was focusing on my family life and realising the fourth season of the project 'Estonian House in Kenya'.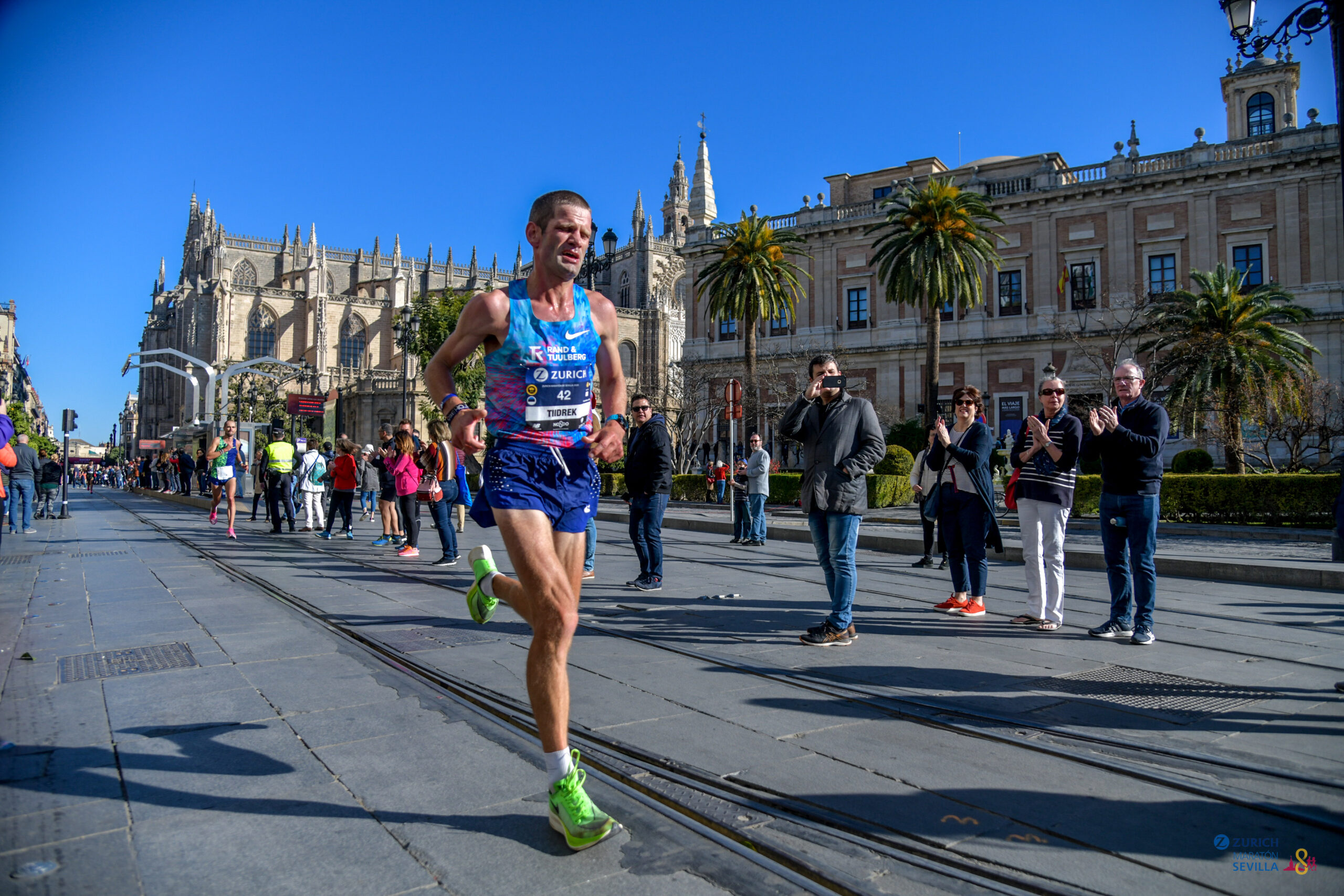 The photo was taken at the 40km checkpoint, at the time when the song "Everybody Hurts" was stuck in my head. In the background there is the Seville cathedral, largest Gothic church in Europe.
Photo by: Cano Fotosports
Having acquired the access to the Olympic Games, I begun drawing up new plans. Part of planning was taking care that my family would survive – that my wife would persevere and the needs of my three children would be met. Even though my family and I stayed in camp in Portugal after the Sevilla run, I decided to take some time off. And then COVID-19 came. We essentially evacuated from Portugal with the last available scheduled flight. Things continued in a way that no one would have been able to predict – the world was seemingly shut down, both international and national sporting events were cancelled. On top of everything else, the Tokyo Olympic Games were postponed.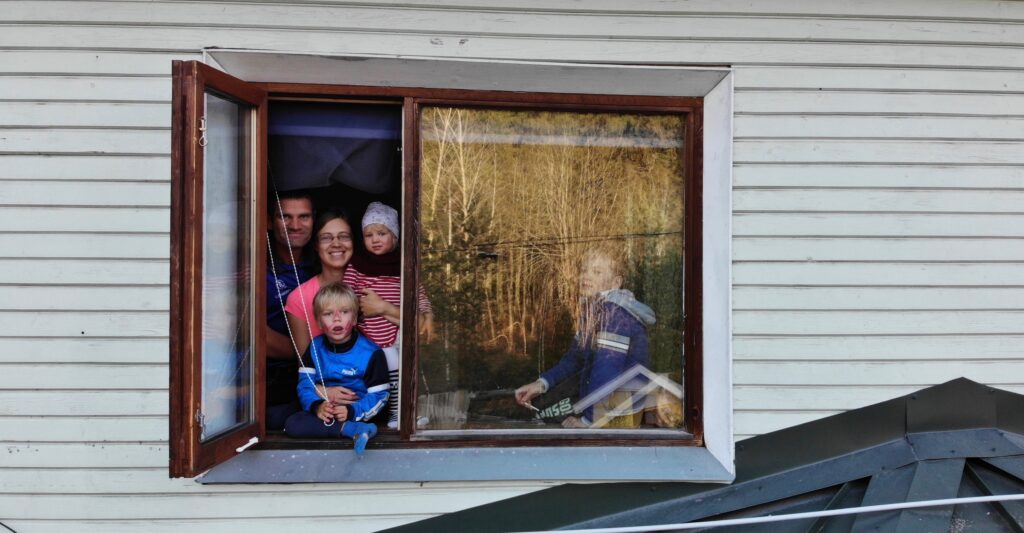 In isolation with my family after evacuating from Portugal.
In March and April, I was able to train so that I basically never went to the store or the sports hall, nor see my trainers or fellow athletes. Occasionally I saw physiotherapist Peeter Nigol. Some training was done, but mostly for my own well-being. There was a small gym in my back yard and forest trails that were open for anyone.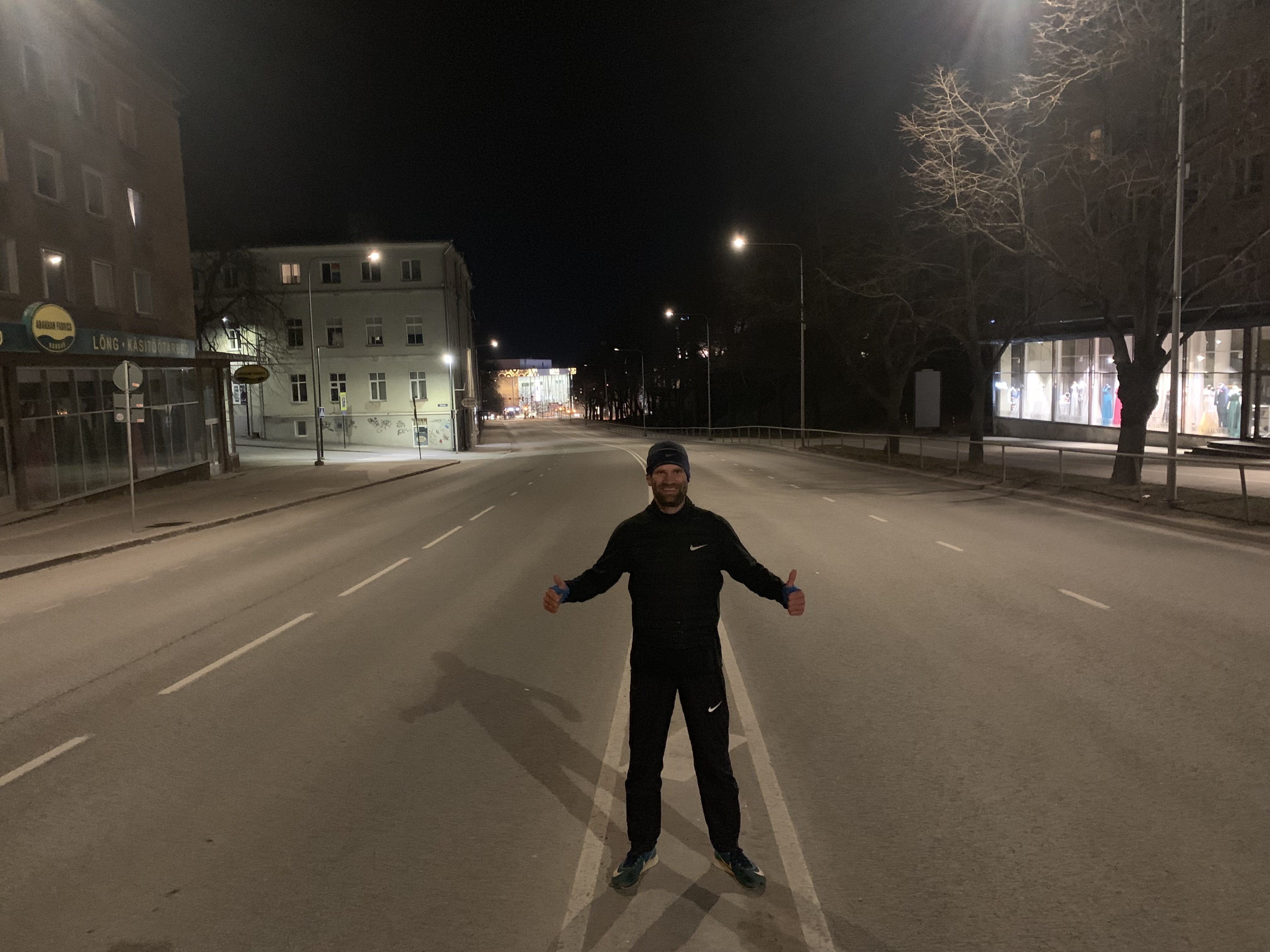 In the beginning of the isolation period I ran at midnight. On this photo I had finished a hill running training in Tartu, Riia hill.
After the restrictions of Coronavirus were relaxed, I joined at the first opportunity the 5000m run of the KEVEK stadium race series. I was competing against children and veterans in an almost empty Tamme Stadium. During late spring, I managed to complete three stages that way. My physical state started coming together by the end of July when I ran my personal record in a 1000m run, the time captured as 2.25.5. Covertly, I focused on the Estonian Championships' 1500m run, in which I aspired to win once more. However, I narrowly came in second to Kaur Kivistik. Although, I did win both the Estonian and Baltic championship titles for 5000m distances.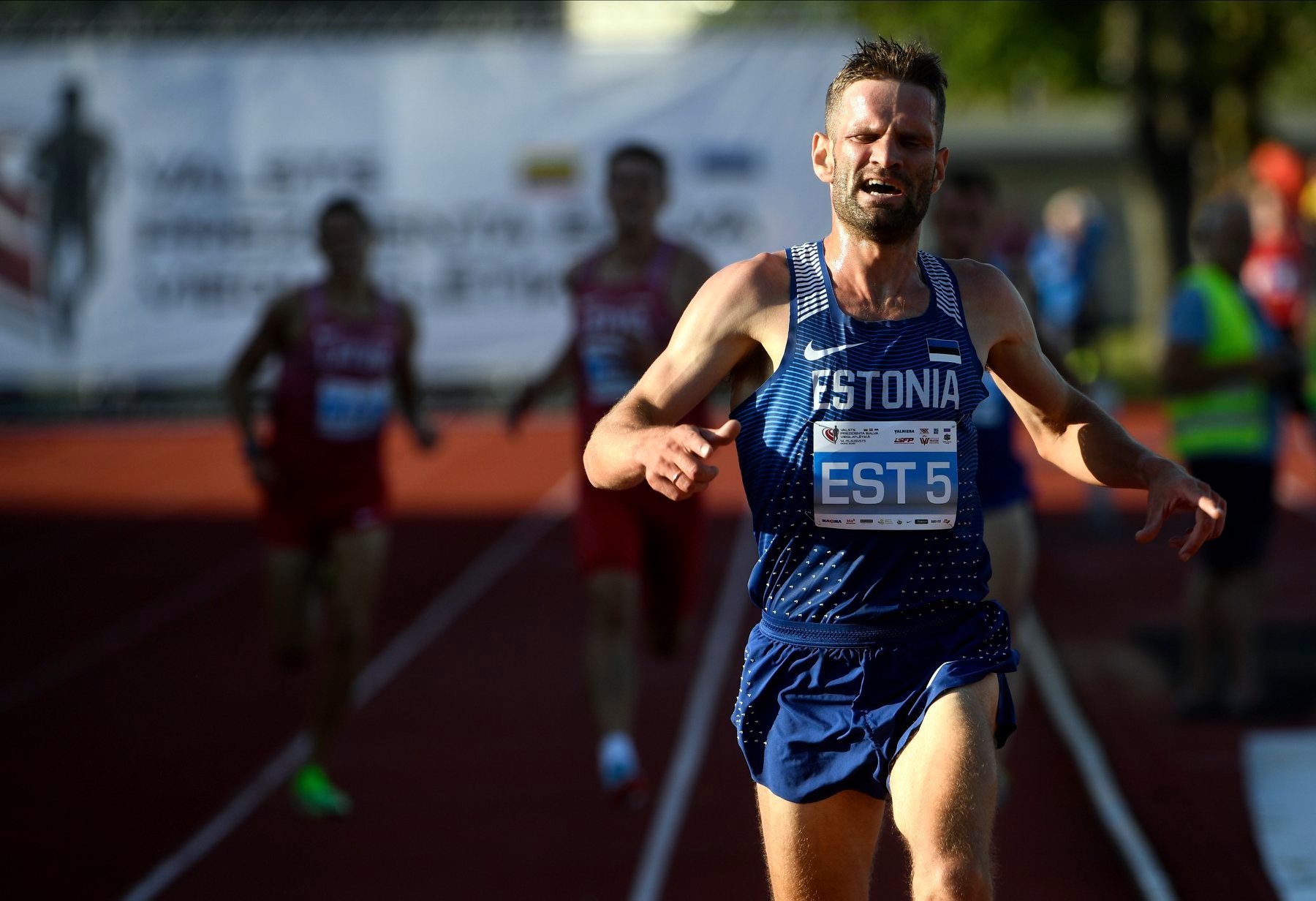 This is how the Baltic Championship title in the 5000m Race happened.
Photo by: Romāns Kokšarovsi
Two races that deserve special consideration are the mile race in Kohila and the 800m race in Pärnu at the end of August. The mile run I won with a considerable lead on Kaur. In the 800m race, I surpassed the new Estonian title holder Karel-Sander Kljuzin, my personal best left unachievable due to a slow start. Then it was time to hurry back to the University of Tartu to defend my bachelor's thesis, the cancellation of the Olympic Games brought with it the unexpected opportunity to finish my degree!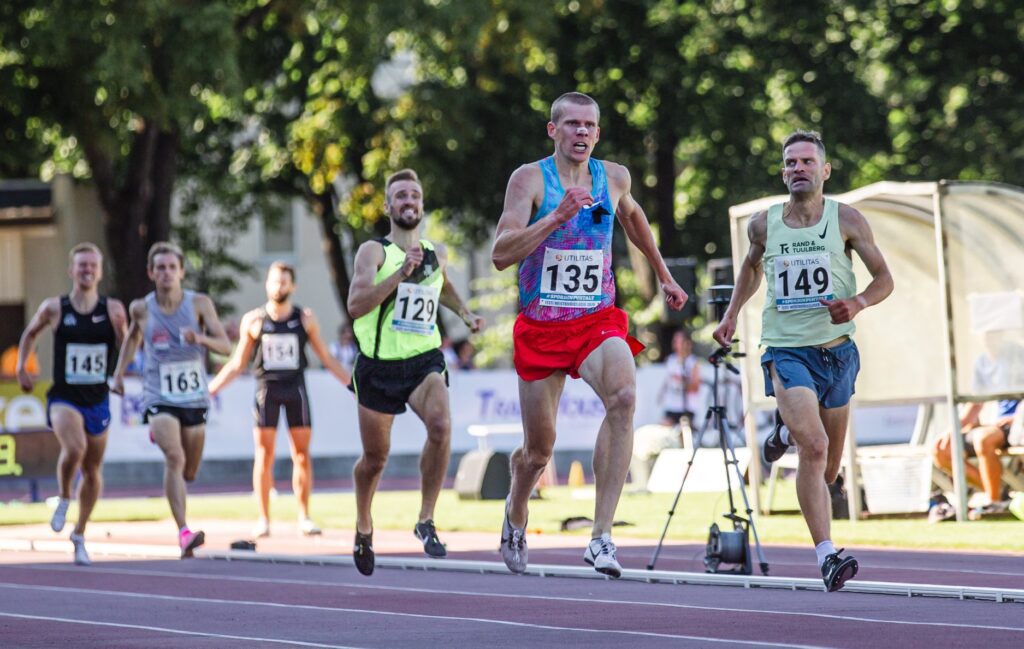 EMV 1500m. Impossible, I couldn't get rid of the "madman" …
Photo by: Raul Mee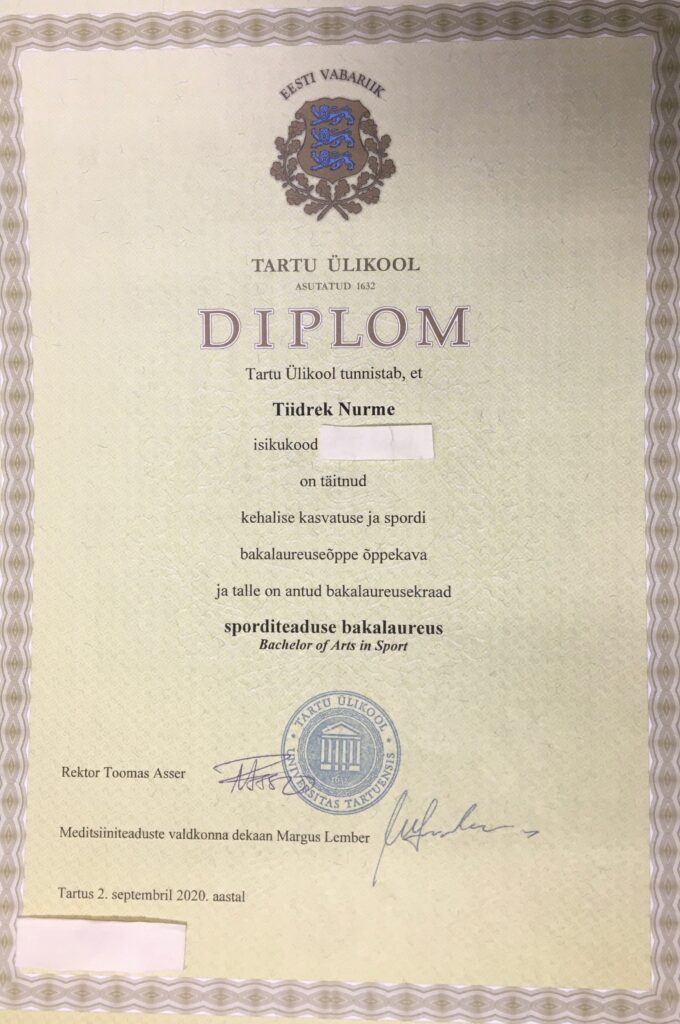 Parallel to the stadium season I was writing my bachelor's thesis. I defended my thesis on the topic Endurance Working Ability in high Temperature Environments.
What I managed to accomplish on the stadium track during the summer came as a surprise even to myself – everything points to my core as a middle-distance runner still being readily available. I sped up my footwork and raised my lactate threshold. These came with me to the autumn road running competitions. The 10km road running Estonian record 29.04 got renewed in Rapla almost in passing, and two weeks later in Tartu I ran with a similar time.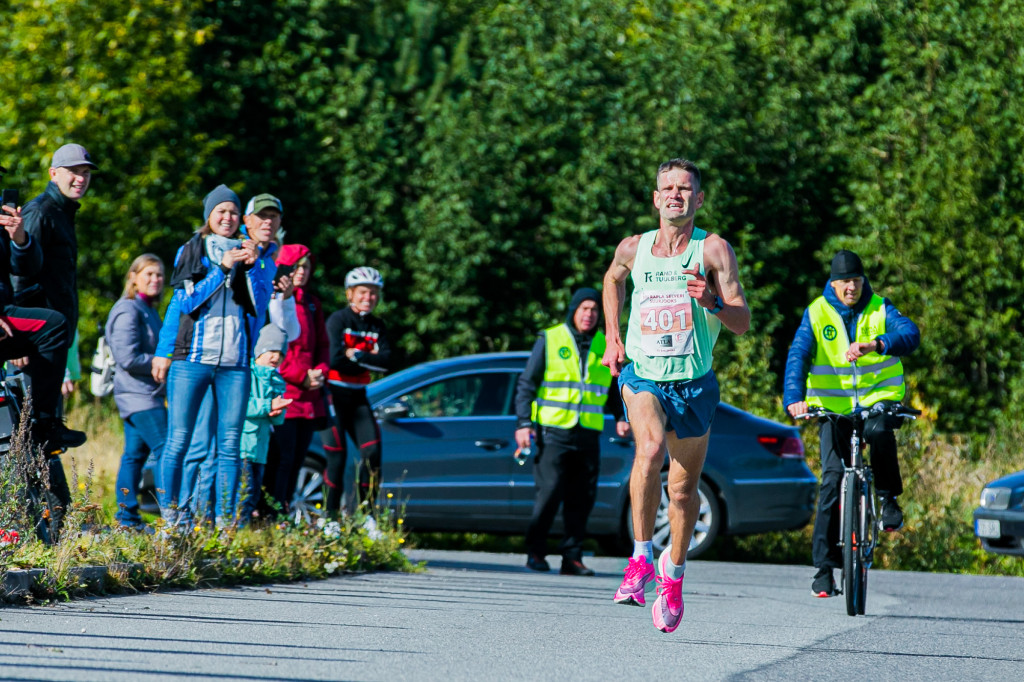 The Estonian record of 29.04 in 10km road running in Rapla came despite the strong wind and having to struggle by myself.
Photo by: Siim Solman
All of this got me intrigued by what I would be able to achieve during the half marathon World Championships in Poland, Gdynia – the only athletic championship of the year 2020. I managed to run a new Estonian record with the time 1.02.20, an improvement of a whole 40 seconds. I finished 41st among 122 runners. I was left disheartened, because had I distributed my strength more evenly, I might have gotten the record to go down to a new minute.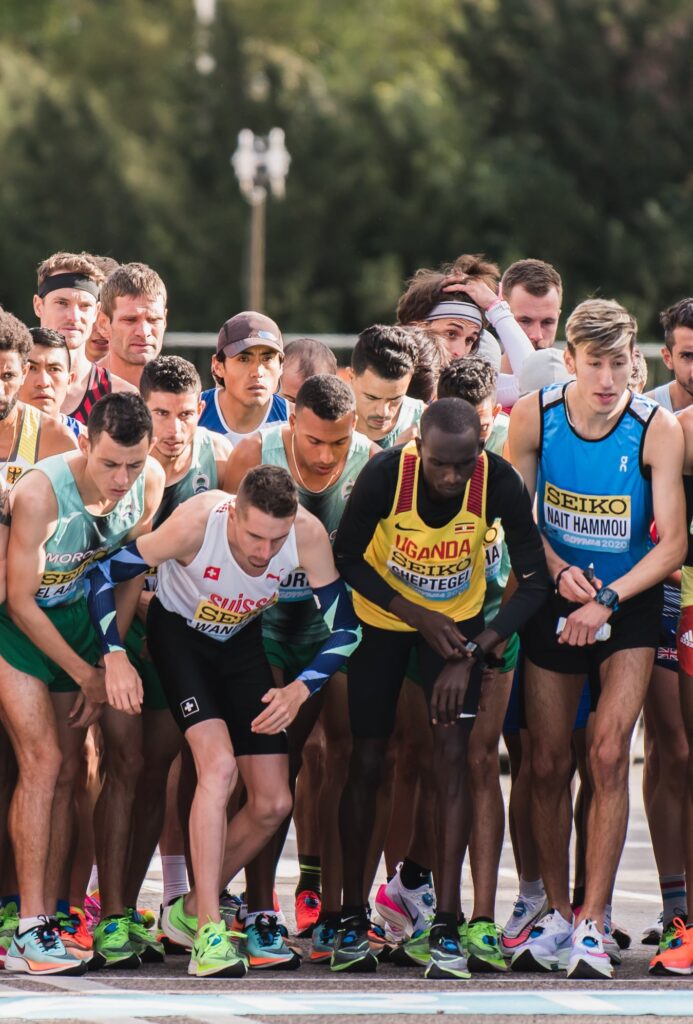 WC half-marathon in Gdynia, the situation before the start. The faces say everything.
Photo by: Dan Vernon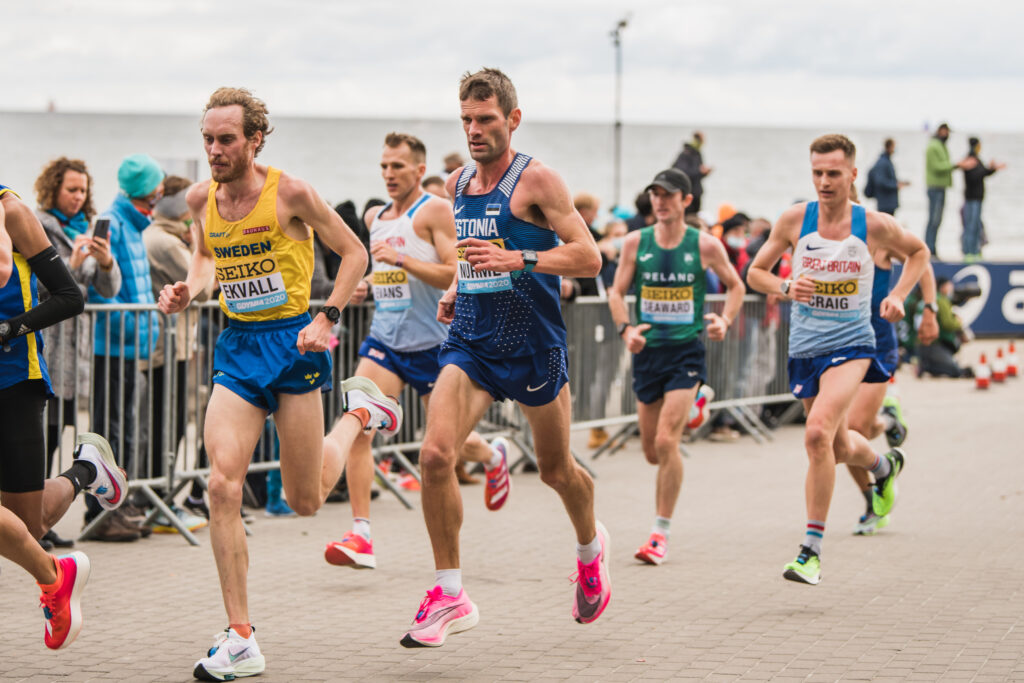 WC half-marathon in Gdynia. Intensively moving towards the record.
Photo by: Nate Castner
However, the results of this competitive year have shown that this state of not knowing and spontaneity suits my personality – five personal bests, two national records and an Olympic qualification, they demonstrate that this has been one of the most successful seasons of my 17-year career. Before the New Year's bell started ringing, I participated in the Taipei International Marathon on December 20th. After a two-week quarantine period at a hotel in Taipei, I won 3rd place in a high-level competition.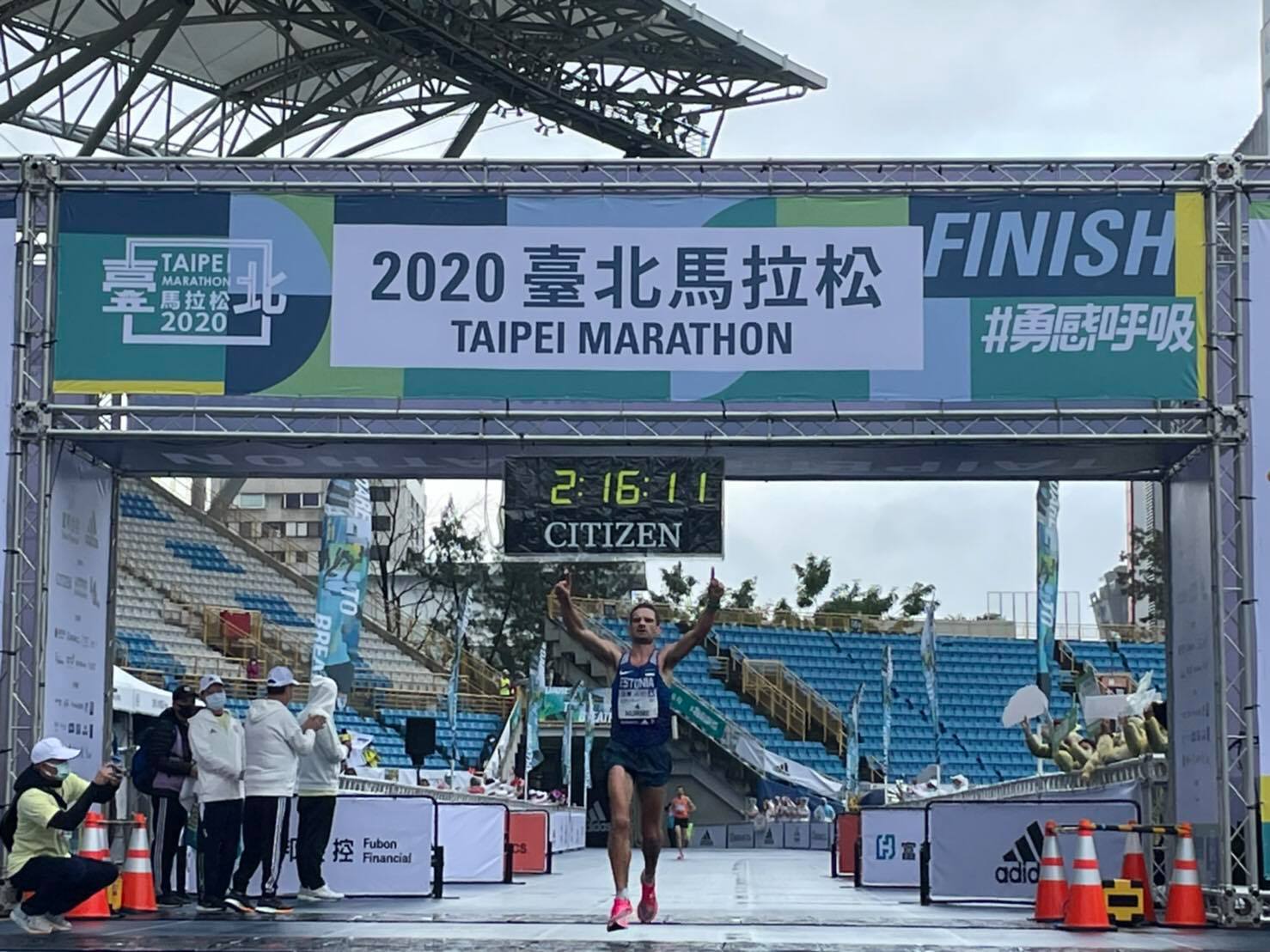 Third place from Taipei International Marathon 2020.
Foto: Lian Chen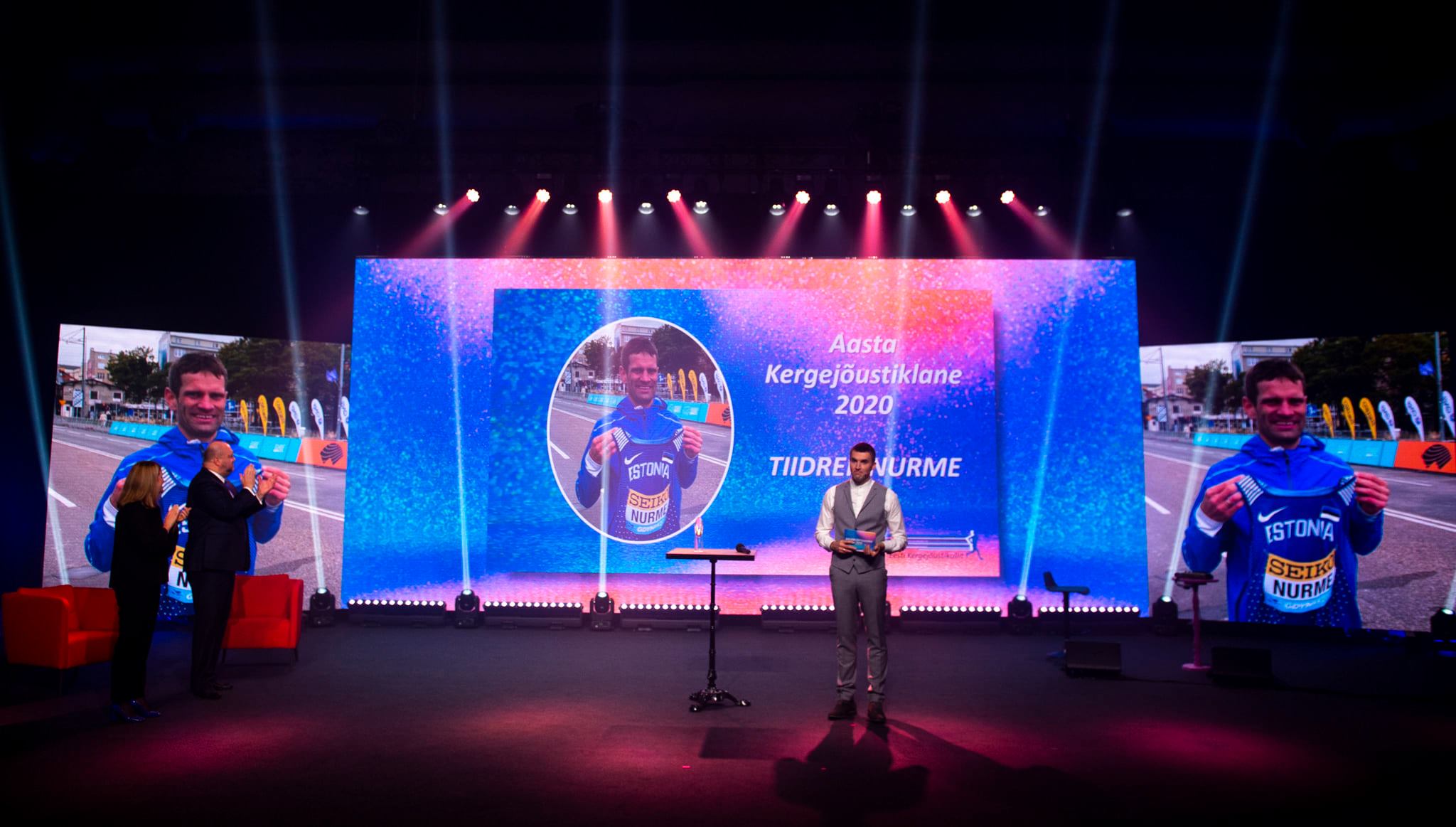 Our efforts were also noticed by fans, athletics clubs, coaches, journalists and the Estonian Athletics Association, who chose me as the 2020 Athlete of the Year.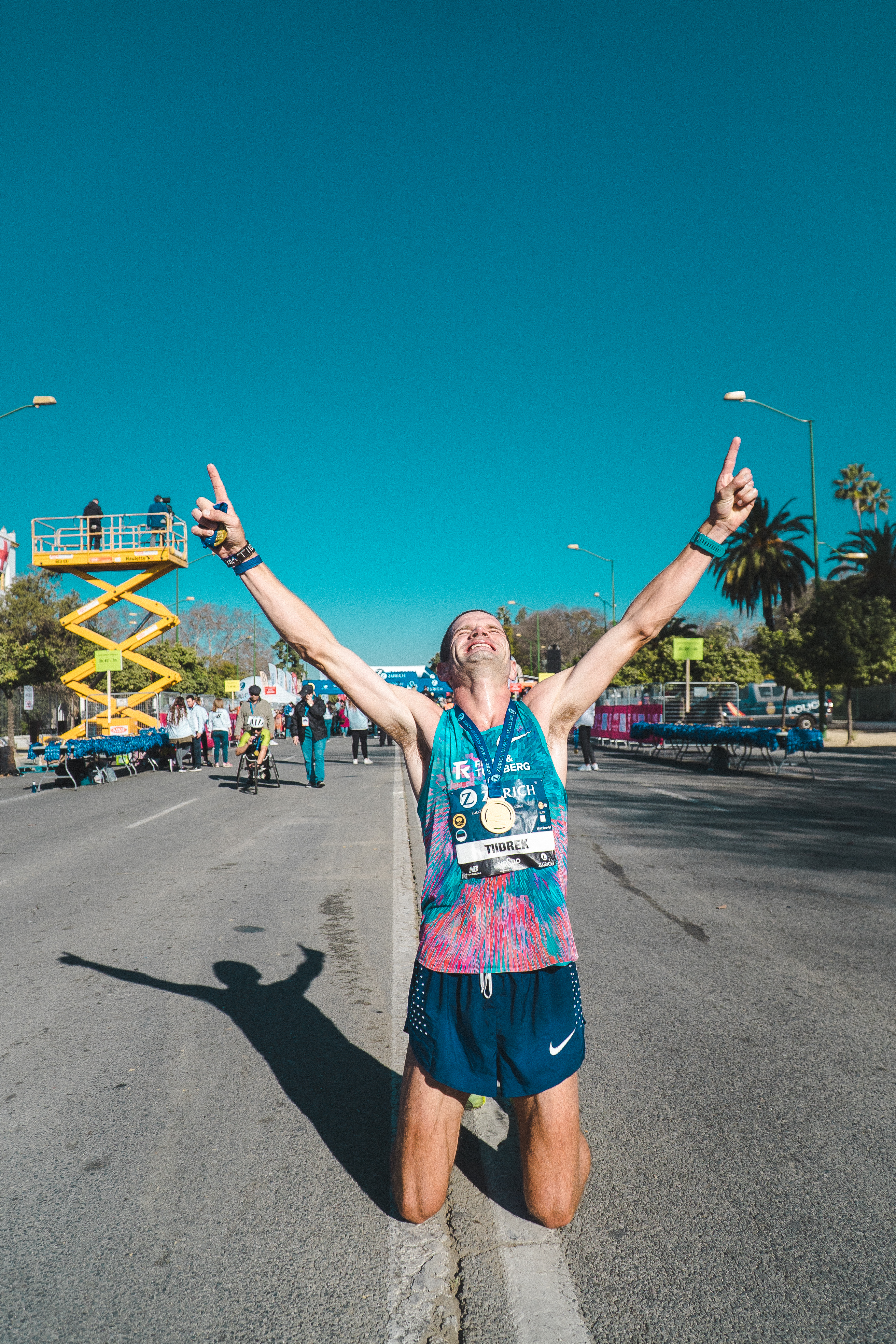 This is the emotion with which I finished this year of sport!
Photo by: Joan Lopez Gil
A short video greeting which was presented at the "Estonian Athletics Awards 2020" gala evening.
I WOULD LIKE TO THANK EVERYONE WHO ASSISTED ME IN THIS EXTRAORDINARY JOURNEY!
I would like to mention by name my current teammates:
Trainer Mark Misch
Assistant coach and manager Harry Lemberg
Manager Charles Paanakker
Spiritual mentor Brad Bartz and Nick Schuetze
Masseur Peeter Nigol
Sports medicine doctors Agnes Mägi, Nadezhda Ignatjeva and Mihkel Mardna
Wife Maili together with our children