The new Estonian national record of 1:02:20, which I ran during the World Athletics Half Marathon Championships in Gdynia, is a beautiful personal accomplishment that rewarded me the 41st place in a competition of 122 men. However, as a national team we were one of the most successful teams. All our members beat their individual records by more than 42 seconds. Something was done correctly and luck was on our side, I see an answered prayer.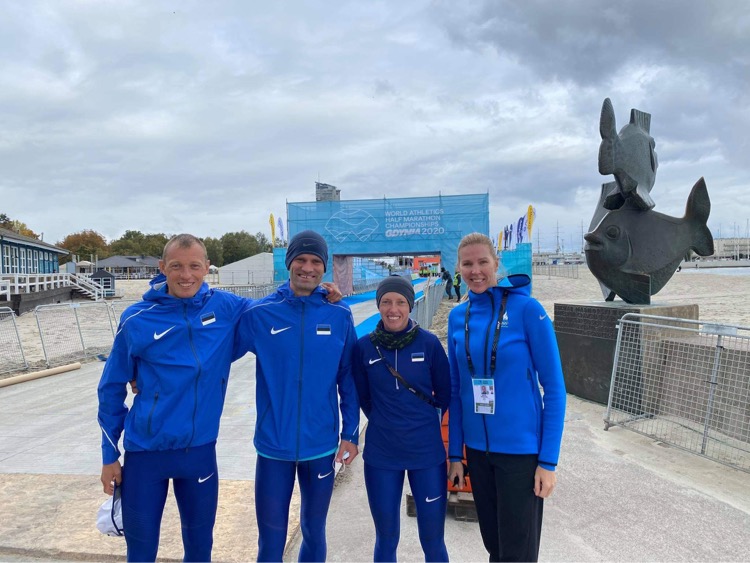 Proud to be Estonian with such a great team. Runners Roman Fosti, Jekaterina Patjuk, me and the team leader Kristel Berendsen.
This year there will be no more international championships in athletics, only the half marathon in Poland. The running community understood that a celebration was possible during the time of Coronavirus and seized the unique opportunity. The multitude of personal records and national achievements demonstrate that the top runners in the world have been hungry for competition, signaling that we are ready for anything.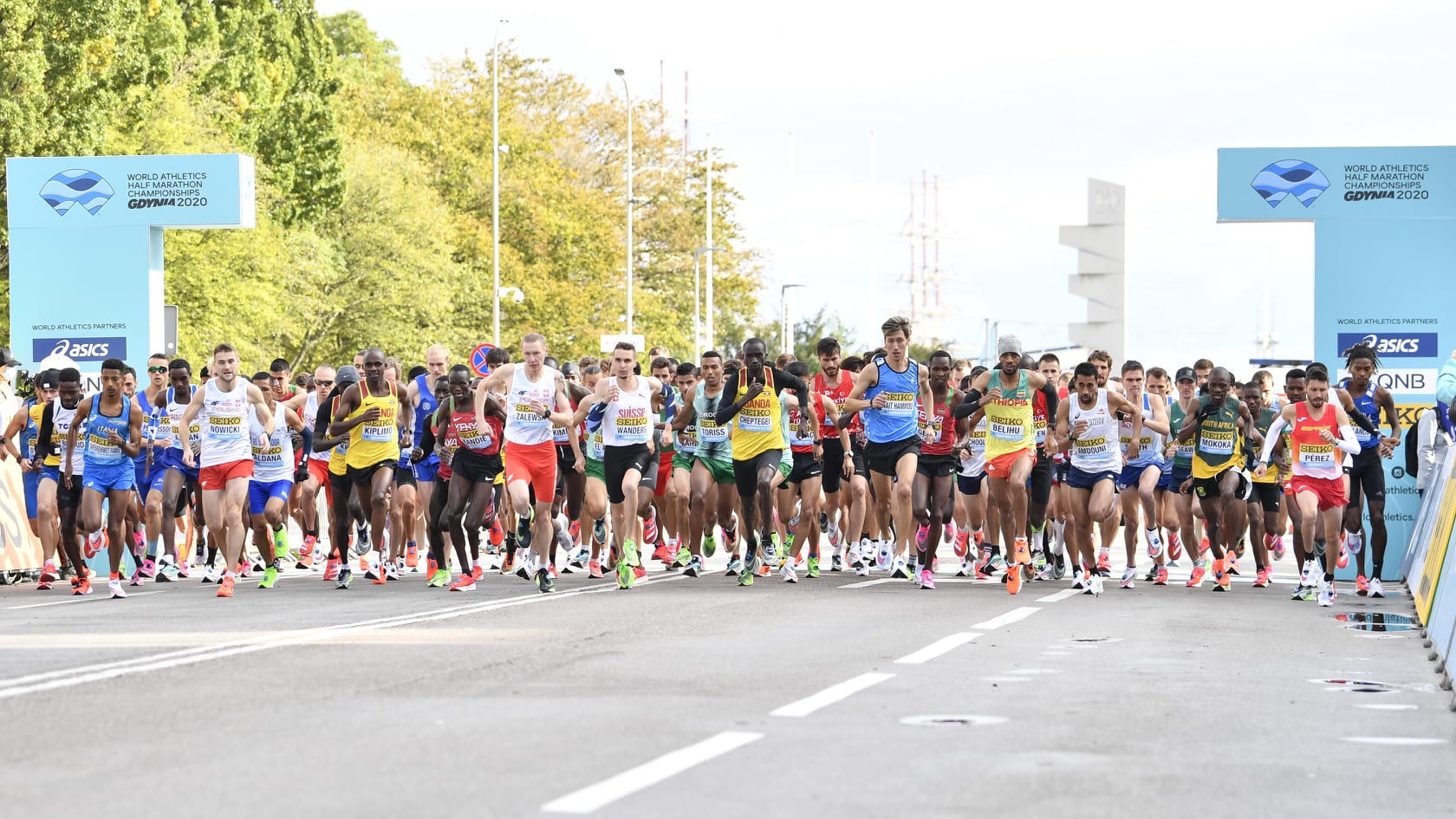 Corona has shaped us all, but didn't defeat us at all. Foto: Dan Vernon
The organizers did everything in their power to prevent the Coronavirus from spreading. Every contestant and team member had to pass two coronavirus tests before checking into the hotel. One of them in their native country and the other when arriving to the hotel. After taking the test, everyone waited for 1.5 hours in a waiting room until they received the results. I was able to wait in the same room with the new world record holder Joshua Kiprui Cheptegei. We both received negative results for our tests. Every participant collected a welcoming package containing hand sanitizers and face masks. In public areas everyone had to wear masks, visiting restaurants and stores was prohibited. Different teams had separate times for eating and food could only be served using the provided gloves. Face masks had to be worn even inside the call rooms of contestants, and immediately after the competition new masks were donned. We had to keep our distance in buses, sitting rooms, as well as in the contestants' press conference. Only one person at a time was allowed into the hotel's lift.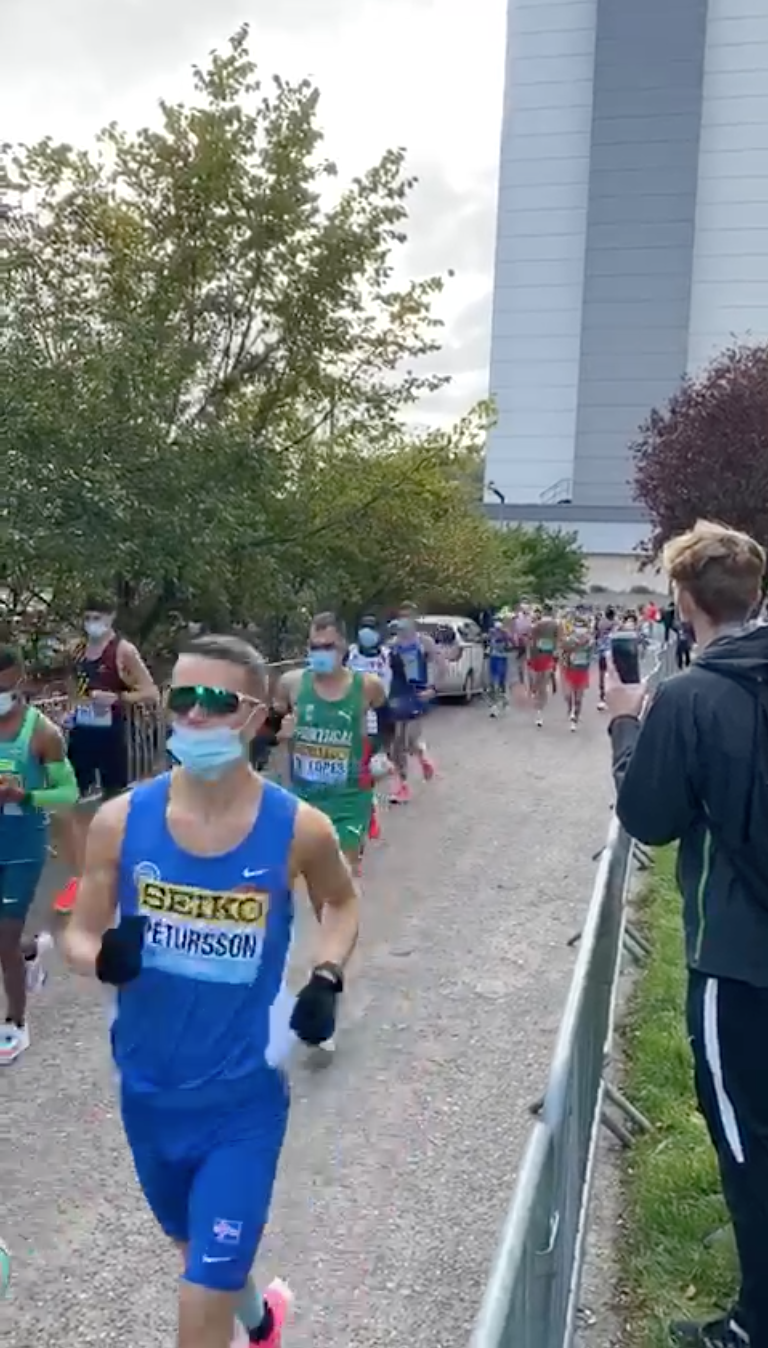 New warmup style before the battle.
In my opinion the 5.4 km course in Gdynia did not have a suitable profile to run a world record. Eight 180-degree U-turns gave away quite a few valuable seconds, inclines interfered with good rhythm while declines created a boomerang effect. For me, it brought to mind a Fartlek run, which means constant changes in pace over the entire distance. We can surmise that a new women's world record can be expected in the near future, which will reach a new minute. If we do not count the profile of the track, then all the other conditions were favorable for a great outcome – suitably cool weather, little wind, immensely competitive starting list, and seamless organization during the competition.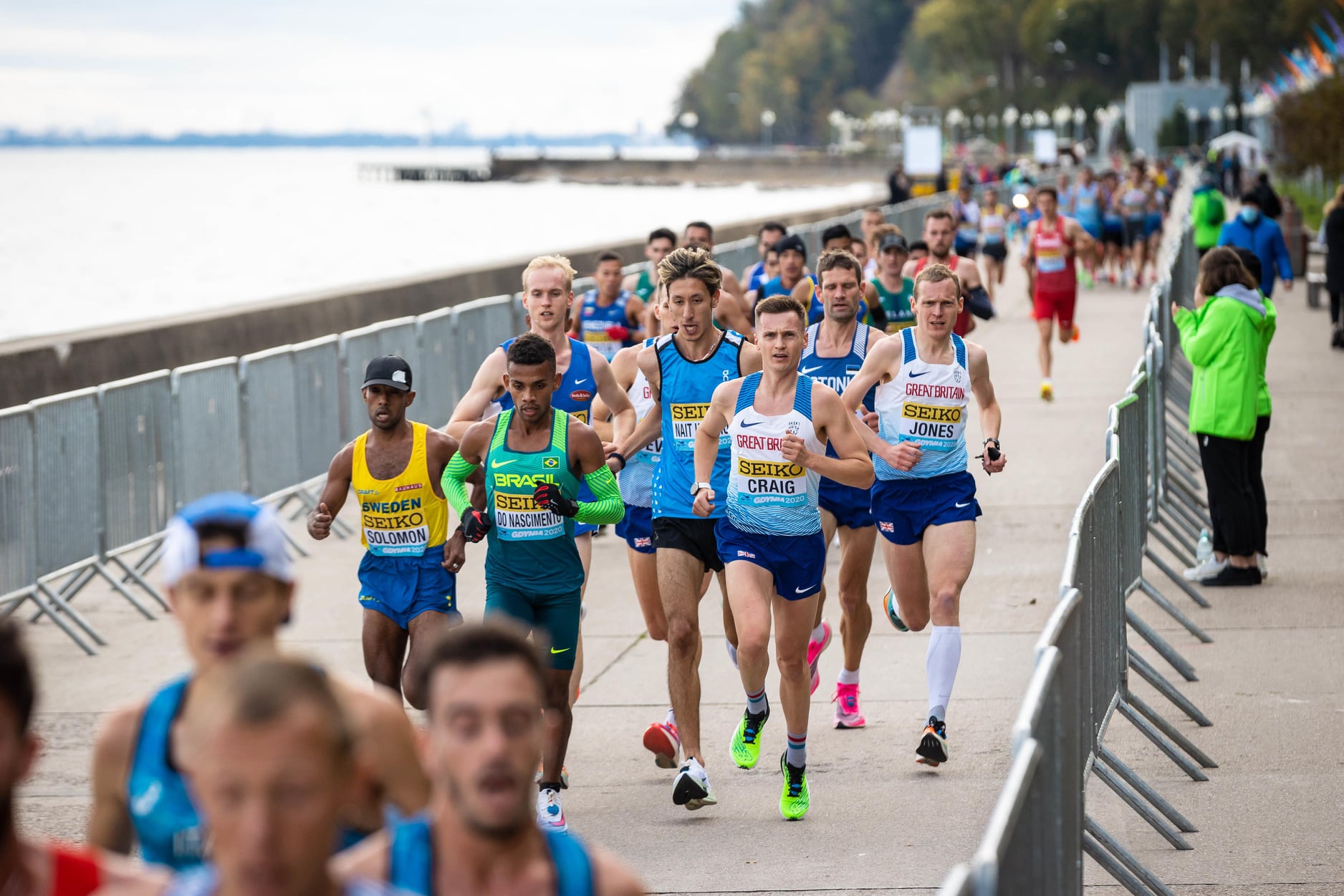 Sometimes the race itself is the easiest part. Foto: Dan Vernon
From a personal perspective I consider my performance a success, since it was exactly what I expected the outcome to be based on my results during training and recent competitions. I managed to run in a group which ran in an even pace. The first 10 km split time was 29.34. The last kilometer was run with a time of 2.40, a finish that only the new world champion managed to accomplish other than me. This shows that I could have split from the group earlier. If there would not have been some indigestion, I would have made more daring decisions. The characteristic agitated changes of positions during championships, and scant experience with this distance added additional strain. In conclusion, I will take with me valuable information for subsequent important championships; and am both pleased and thankful for a wonderful individual performance as well as the accomplishments of the whole team.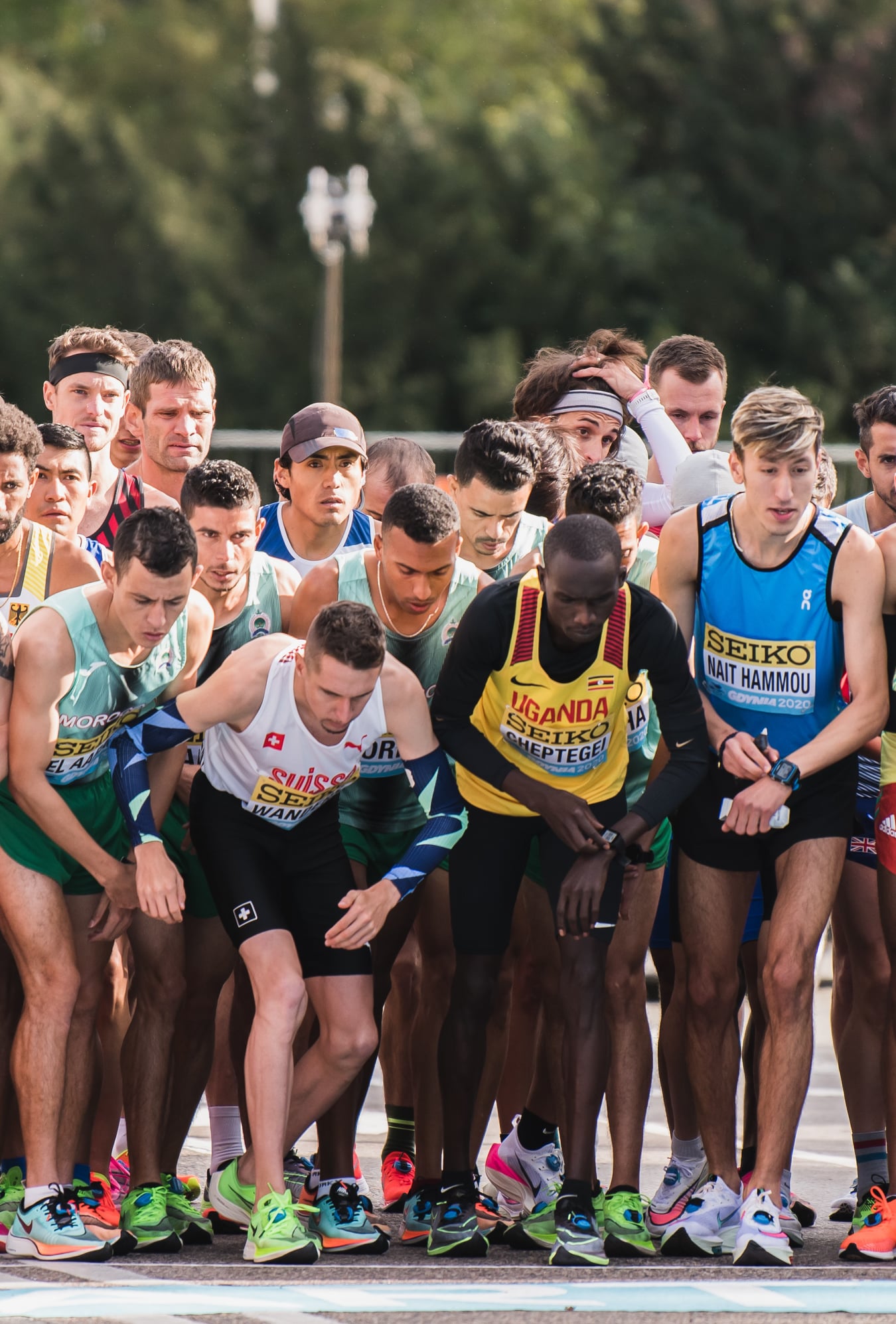 The faces are telling the strory. Foto: Dan Vernon
My next more significant feat will most likely be on the 20th of December in the marathon of Taipei. I plan to use this competition to gather information in preparation for the Tokyo Olympics marathon.
I WOULD LIKE TO THANK EVERYONE WHO ASSISTED ME IN THIS EXTRAORDINARY JOURNEY!
I would like to mention by name my current teammates:
Trainer Mark Misch
Assistant trainer and manager Harry Lemberg
Manager Charles Paanakker
Spiritual mentor Brad Bartz and Nick Schuetze
Masseur Peeter Nigol
Sports medicine doctors Agnes Mägi, Nadezhda Ignatjeva and Mihkel Mardna
Wife Maili together with our children