Hannoveri maratoni hommikul helistasin treener Markile Coloradosse ja Harryle Eestisse ning jagasin enne pikka jooksuvõistlust viimased infokillud. Mainisin ära, et mind on siin poputatud justkui kuninga kassi. Nimelt võistluskorraldajad andsid mulle oma isikliku hotellitoa, maksid reisi kinni, organiseerisid spordijoogid ja tagatipukuks palkasid tempotegijagi.
I have been well taking care of
in Hannover marathon

. The organizers paid my trip, gave a hotel room, organized the fluids and gave me a private pacemaker. What else I can ask for?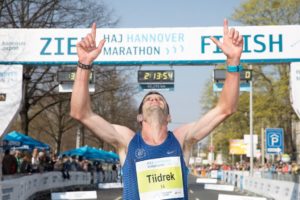 Foto: Norbert Wilhelmi
Päev enne võistlust istusin Sakamaa meediakanali esindajaga vastakuti, kui too küsis minu lapsepõlve seikluste kohta noortevanglas. Küsis kas ta võib sellest rääkida ka võistluste ajal otseülekandes. Sama teema võttis söögilauas üles ka Lõuna Aafrika jooksja. Head sportlikud saavutsed toovad rambivalgusse kogu sportlase elu. Kui kasvõi ükski inimene sellest eduloost motivatsiooni leiab, on halb pöördunud heaks.
The day before the race a German broadcaster asked from me about my childhood experience in the youth prison. I gave him the permission to speak about that when he was going to comment the marathon in the TV station. The same question was asked by a South African runner at the dining hall. It seems that If you are doing good in something, then your whole life will be exposed. I am always happy to share a motivational story for the others.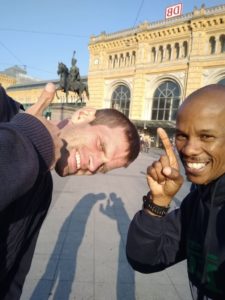 Kõik on uus: uus võimalus, uus võistlus, uus koht, uued tuttavad, uus isiklik rekord.

Everythings is new: new opportunity, new competition, new place, new friends, new PB.
Võistluseelsed päevad on tippsportlaste jaoks alati ärevad: positiivne ärevus aitab võistlusteks paremini keskenduda. Omamoodi äge kogemus oli kuulda oma kõrval hotellitoas kaasvõistlejat palvetamas, nii hommikul kui õhtul. Igal inimesel omad vahendid kuidas oma mõtte – ja tundemaailma korrigeerida. Minagi palvetasin, et seekord maksapisteid ei tuleks nagu enamus minu maratonidel on olnud.
The pre-race days are always stressful: positive stress helps the athletes to focus. It was great to hear when the guy next door prayed before the sleep and when he woke up in the morning. Everybody has their ways how to handle the emotions and the mind set. I prayed also and asked from God for not having some side stitches during the race.
Võistluseelsel õhtul segati valmis spordijoogid. Korraldajad palusid pudeli saamiseks õunamahla kraanikausist alla valada.  Minu spordijook paiknes eliitvõistlejate laua peal esimisena, seega ei pidanud seda pingsalt otsima ning sain oma joogid alati õigel ajal kätte.

The special drinks were prepared the day before the race. The organizer asked us to pour down the apple juice just because of getting empty bottles. I could not do that, so I mostly used the cardboard bottles.
Võistlus rullus lahti nagu alati: isesuguselt. Esimene 5 km jooksin juhtgrupis ajaliselt 15.25. Seejärel juhtgrupp tõstis tempot, millele ma ei näinud mõtet reageerida. Lasin vahe sisse ning jätkasin omale sobivas tempos oma tempotegijaga. Viimane üritas mind korduvalt tagasi hoida kuna kippusin tempot tõstma. Kuni poolmaratonini jooksime koos, siis astus tema maksapistete tõttu kõrvale. Kuna juhtgrupp oli eest ära ja tagumised mehed nii palju aeglasemad, siis jooksin üksinda edasi, mõõdudes mitmetest jooksjatest, kes juhtgrupist välja pudenesid. Eriti meeldiv oli mööduda Saksamaa rekordiomanikust ning võistluse peategelasest Arne Gabiusest. Viimane 12 km oli üsna väljakutsuv kuna vastu vaatasid kohati tuulised ja pikad sirged ning väsinud ja energiapuuduses keha nõudis oma osa. Õnneks suutsin ennast ületada ning tempot enamvähem säilitada. Kokkuvõtteks uus isiklik rekord 2.13.40 ja kuues koht kõrgetasemelises seltskonnas. Ja mida ei olnud, need olid maksapisted!
The first 5 km I followed the first group, clocking 15.25. After that I slowed down a bit with my pacemaker. We passed the half way 66.01. Unfortunately my pacemaker could not continue after the half way due to the side stitches. I had to go by myself on the second half. The last 12 km was pretty hard, but I am happy that I could manage the pace pretty well until the end.
I found some motivation when started to pass the other guys.

New PB 2.13.40 and the position 6th in the IAAF Silver Label race. Not bad! By the way: I did not have any side stitches.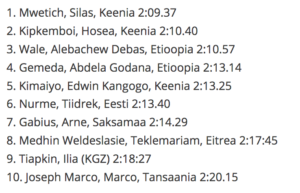 Top 10
Tegemist on suure sammuga edasi minu maratonikarjääris. Kogu protsessi käigus õppisin palju uut ja näen kõvasti arenguruumi.
It is a huge step forward in my marathon career. During the process I studied a lot and I see there is lot of space to develop.
Teine hea uudis on see, et näen üle nelja kuu kodumaad! See on hea auhind: kojusõit pikalt reisilt.
The second good news is that I am going home after the four months of being away. This is a nice award.

 
Tänan kõiki abilisi sellel suurepärasel teekonnal.
Thank you all who have been supporting me trough out this adventure.
Nimeliselt mainin ära minu praegused meeskonnaliikmed:

Here I bring out some names and sponsors:
Treener

(coach)
Mark Misch
Abitreener ja mänedžer
(coach and manager)
Harry Lemberg
Mänedžer
(manager)
Charles Paanakker
Vaimulik mentor
(spiritual mentor)
Brad Bartz