Just one day before leaving Estonia, I received bad news from Synlab laboratory: "Your second covid-19 test shows borderline results." It made my heart flutter, felt like a scene in a movie. I tried to stay calm, but still started to look for culprits. I did not have to look far. I am healthy, but my son at home has a cold. Coach Mark, who had arrived in Estonia before the Olympic Games, could only say, "Let us pray." We prayed and also asked our friends to pray for us. In an hour, I was at Synlab laboratory again, giving another covid-19 test. I anxiously waited for the results the entire day; I had not even packed my suitcase. It was nerve-racking, but I was even more joyous after receiving a NEGATIVE test result. It was a good mental and spiritual exercise to prepare myself for the upcoming trip to Japan. This is only one of the challenges in my preparation process for these games. Every day I had to be ready that all the plans would thrown in the trash. But having a worship song in my mouth on the racing day made me feel that I am ready for going to church. It was a God's service indeed. One of the competitor told me during my race: "Praise the God." I repeated: "All the time." It doesn't mean that God worked for me. NO, He made me work hard and to focus, but the final outcome is not only in my hands.
Accompanied by coach Mark Misch and physiotherapist Peeter Nigol, we started our trip from Tartu bus station. Toomas Tarm, coach of Roman Frost joined us at Tallinn Airport. We met Roman once we arrived in Japan. Having a professional team increased my confidence and hope for successful trip and competition.
Upon arrival at Narita Airport in Japan, we underwent thorough testing for covid-19. Before reaching the testing premises, our documents and papers were checked in several, possibly ten different locations. One important issue concerned OCHA bar code. It is an app that we were supposed to update during our entire stay in Japan. After that we had to wait for our covid-19 test results, which took three hours.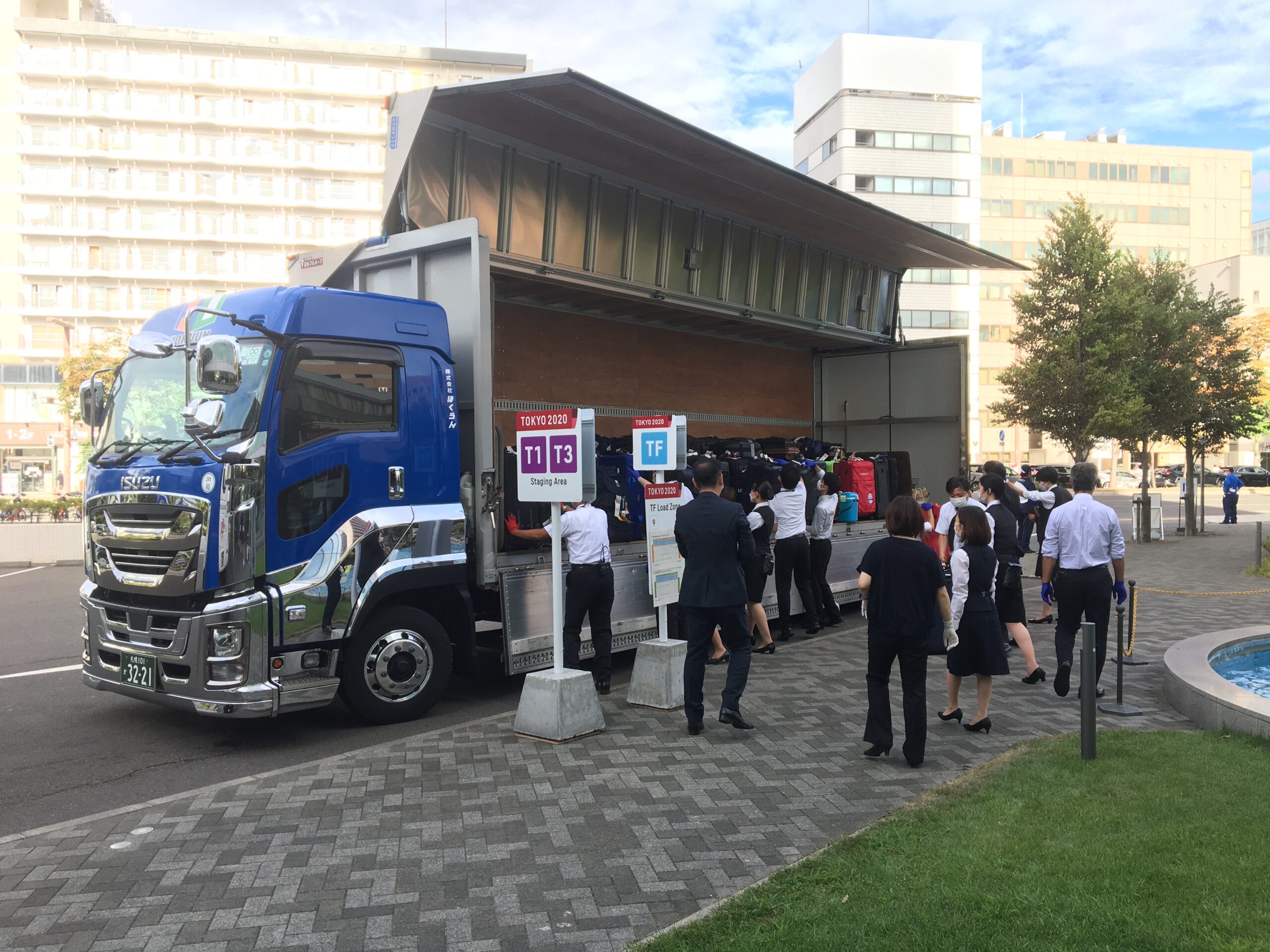 Our journey continued with a bus trip from the airport to the Olympic village. Our bags were loaded on a truck that followed us to our destination. That applied to all athletes.
After a thorough airport experience, we were rather surprised to see that the life in the Olympic village was relatively open. All athletes could go anywhere they liked at any time as long as they stayed within the village. The village had nearly all the facilities as during previous Games. As far as I know, the only thing missing was a pool and religious centre. The latter was advertised on the Olympic Games page, but religious activities were organised in an online environment. In order to determine potential covid-19 cases, each villager had to give a saliva test on a daily basis and update the said OCHA app. Disinfectants and masks were used as control measures to avoid the spread of the virus, and plastic gloves were used in the canteen.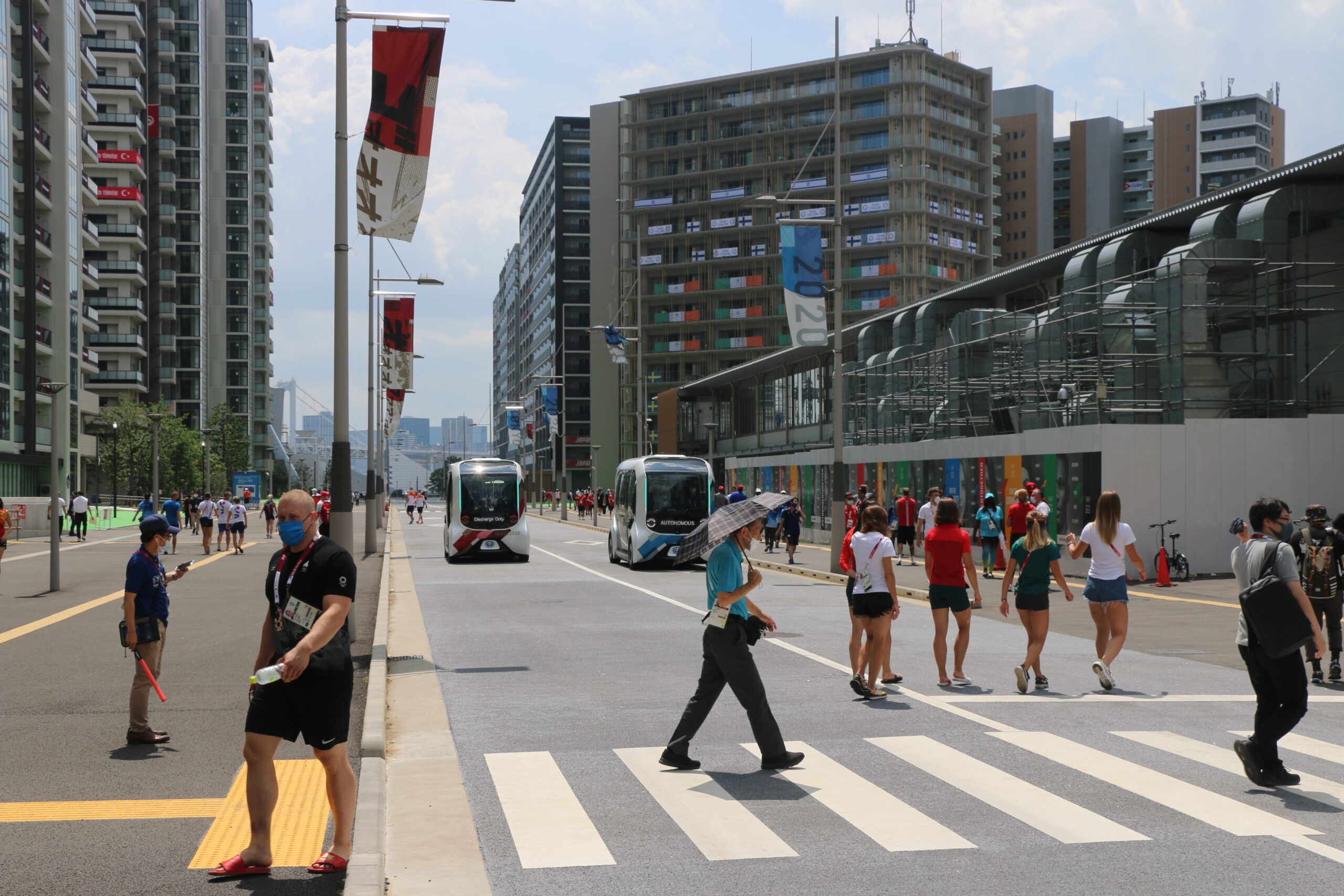 The marathon runners stayed at the Olympic village for only two days, until a special plane took us to Sapporo with other runners and racewalkers. Sapporo is 800 km north of Tokyo.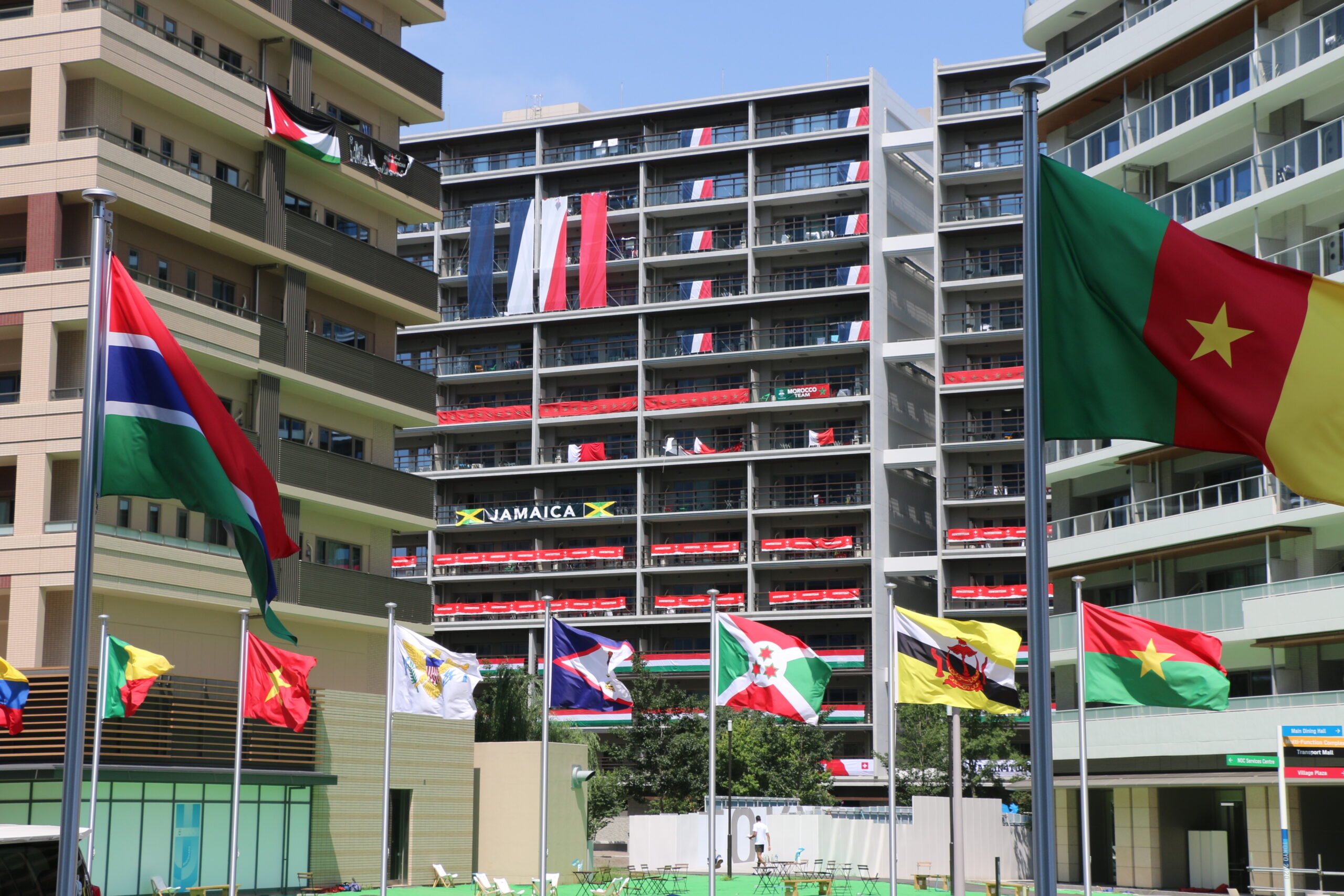 The Olympic Village was very colorful.
Apparently, we were taken to Sapporo as it was supposed to have cooler temperature and lower humidity. However, that was not so! On the day of men's marathon, the weather in Sapporo was hotter than in Tokyo. For entire week, all the runners lived in a luxury hotel with much more comfortable rooms and better-quality food than in the Olympic village. What a life!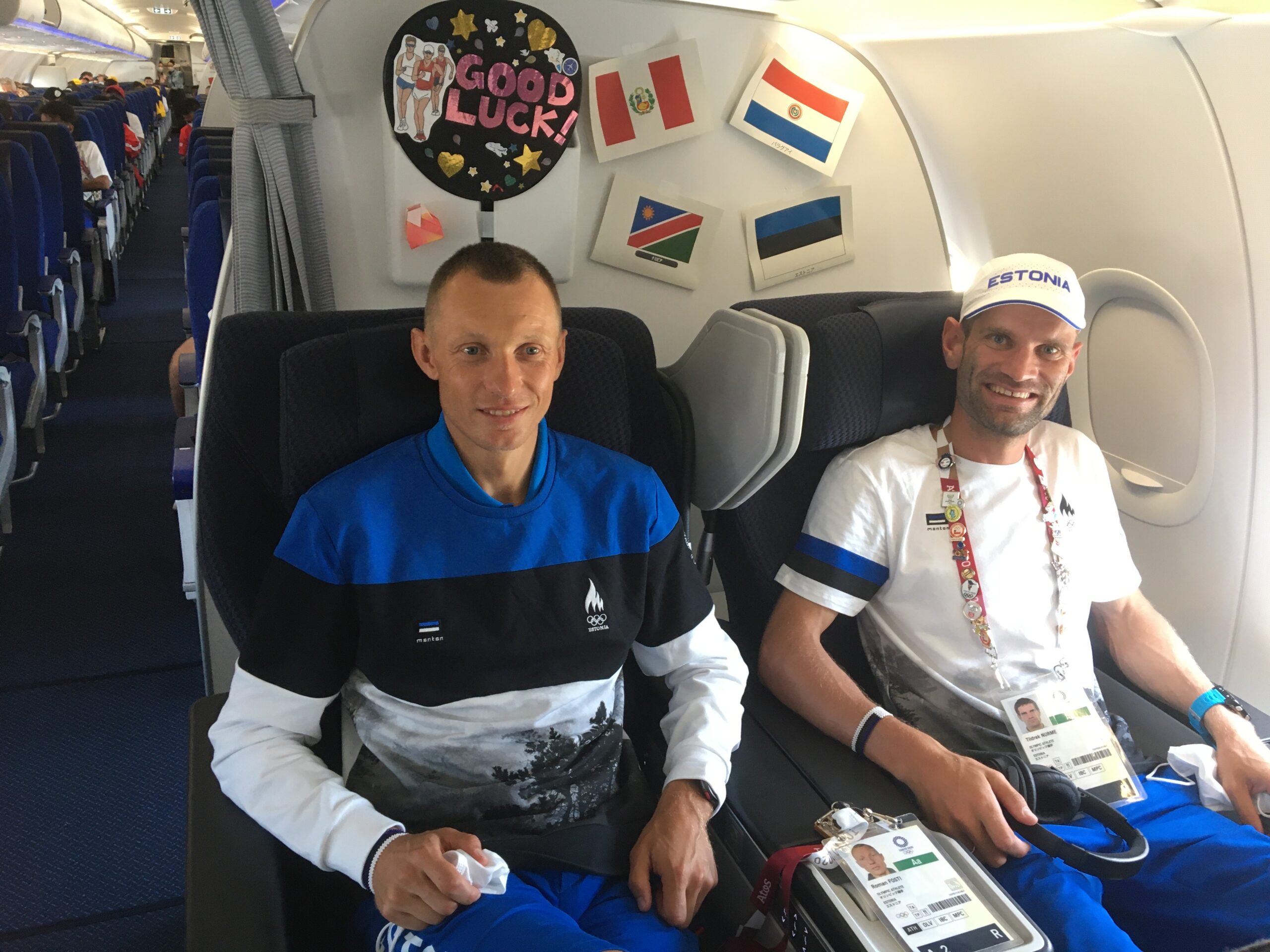 Another exceptional thing was flying to the competition location on a private jet.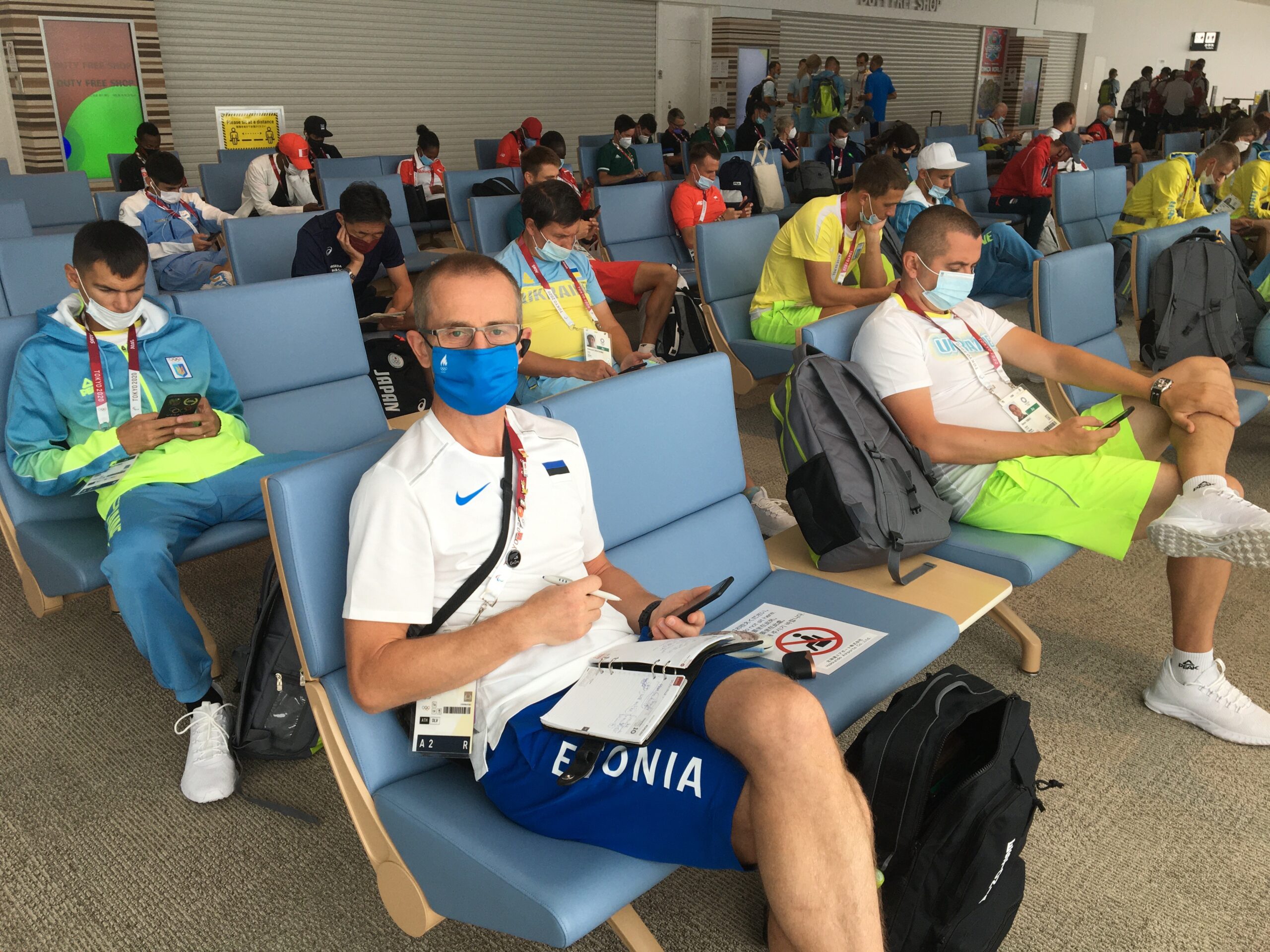 There were only athletes and their support staff at the boarding gate.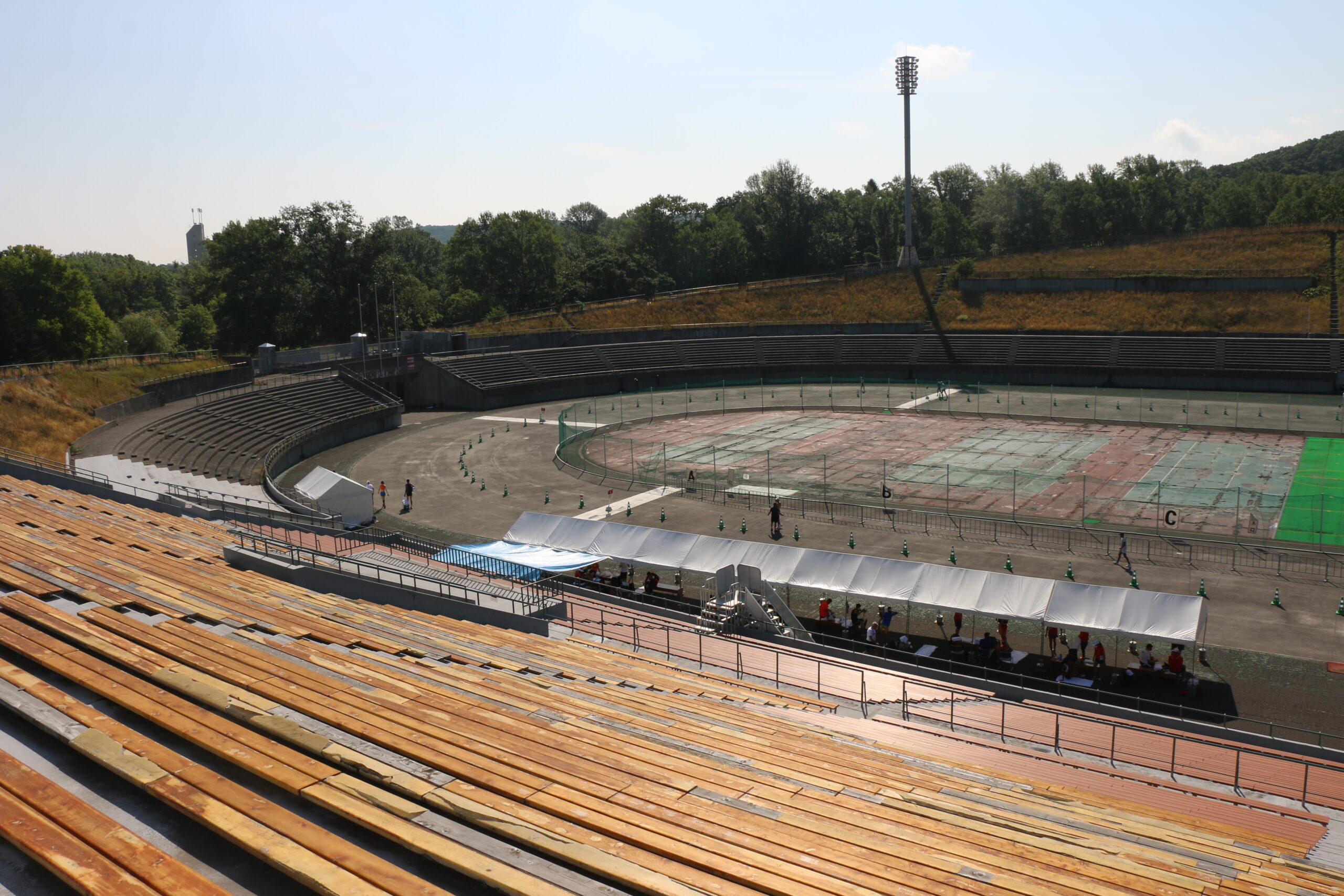 Sapporo was the location of the competitions and the opening and closing ceremony of the Olympic Games. We used it as a training area.
We ran on the asphalt course with external diameter of 950 m. Athletes and their teams – all those world-known racewalkers and marathon runners, training together, yet rivals during the competition. There was lots of colour and diversity. Everyone had their own plan for preparing for the competition. Quite a few of them did not stick to their original plan and admired the others who stood out with their exercises or speed. Some were inspired, some lost their motivation. Our free movement was limited to the stadium, canteen, and our hotel. Fortunately, it took 20 minutes to drive to the stadium, so we could take a peek at the city life from our bus window.
The road for runners druring our stay in Sapporo.
A week in Sapporo went by quickly and without major drawbacks, but not without stress. I doubt there was anyone in that hotel who did not take the competition seriously. My motto for the week was: "focus, pray and follow your own path". I tried to share my time between several different activities: training, massage, working on the computer, communicating with other athletes, and watching the Olympic Games on TV. I had to give up quite a few things to focus on the essential. To be honest, I became quite bored with sports and talking about sports. I did not feel guilty for missing a few track-and-field finals. There was a time when I started to see the Olympic rings in my dreams. However, I maintained a good mood and was excited for the competition.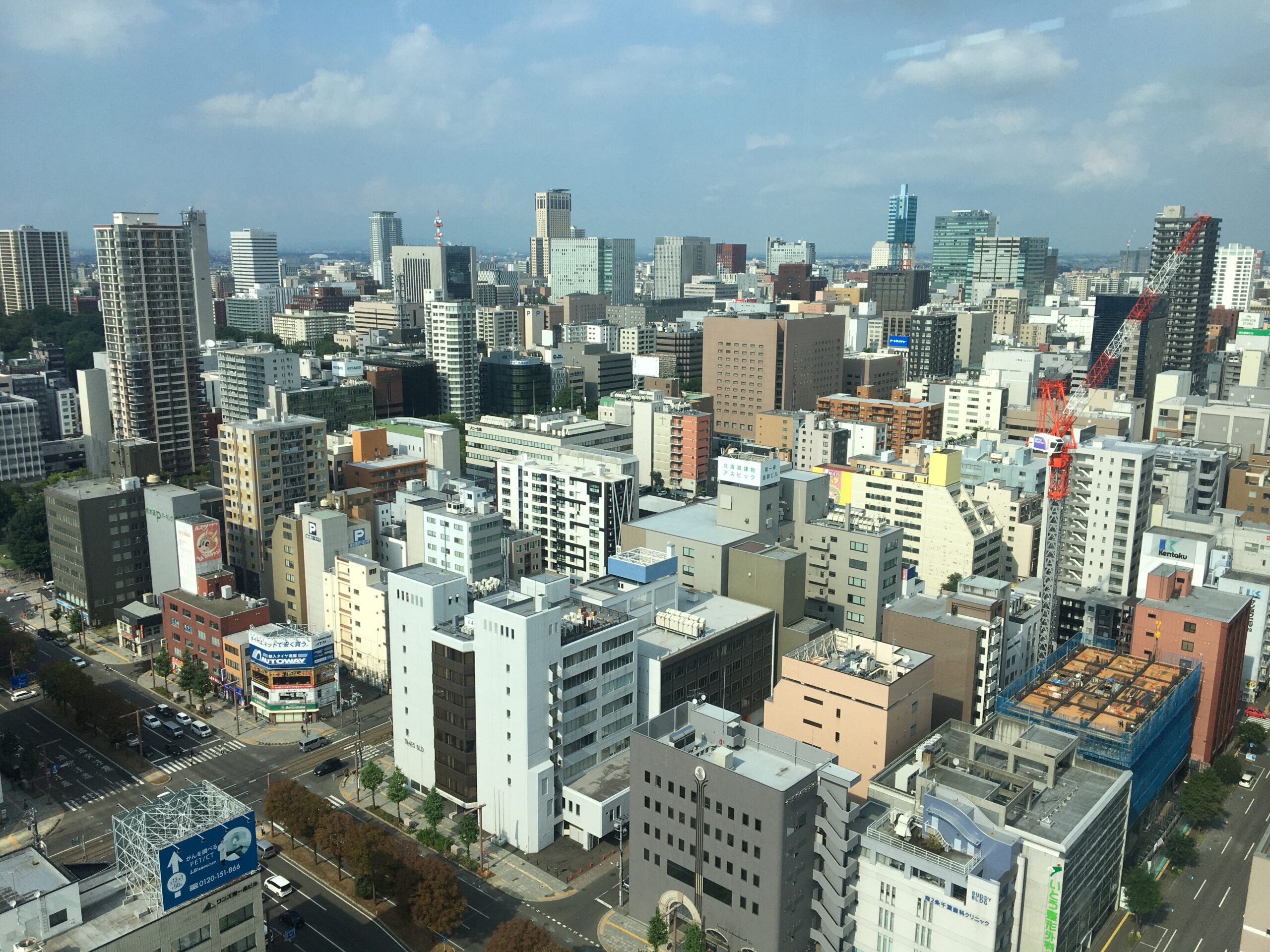 A view from our hotel window.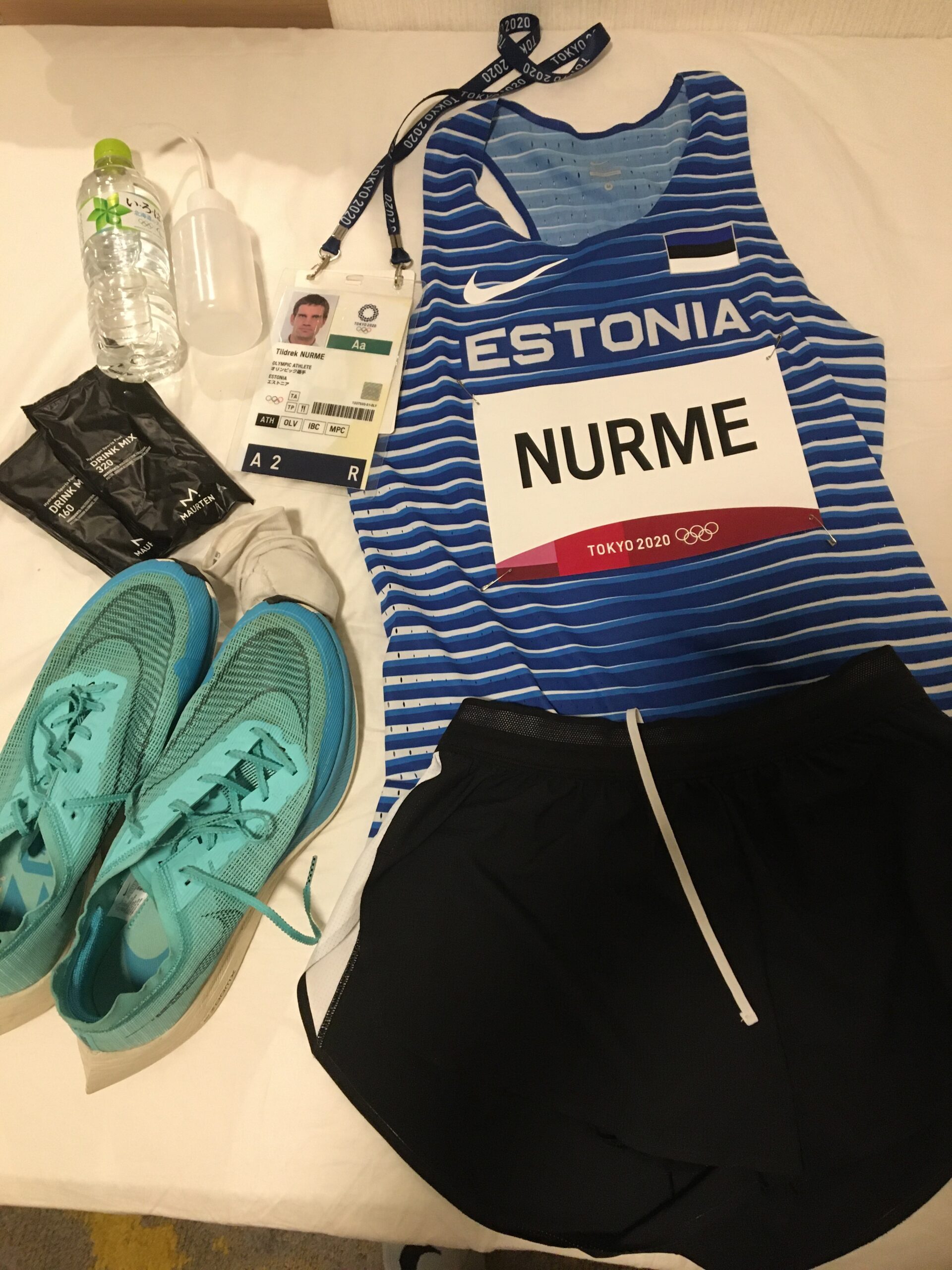 Mandatory pre-competition picture. More or less all the things a marathon needs. Seemingly quite a cheap sport.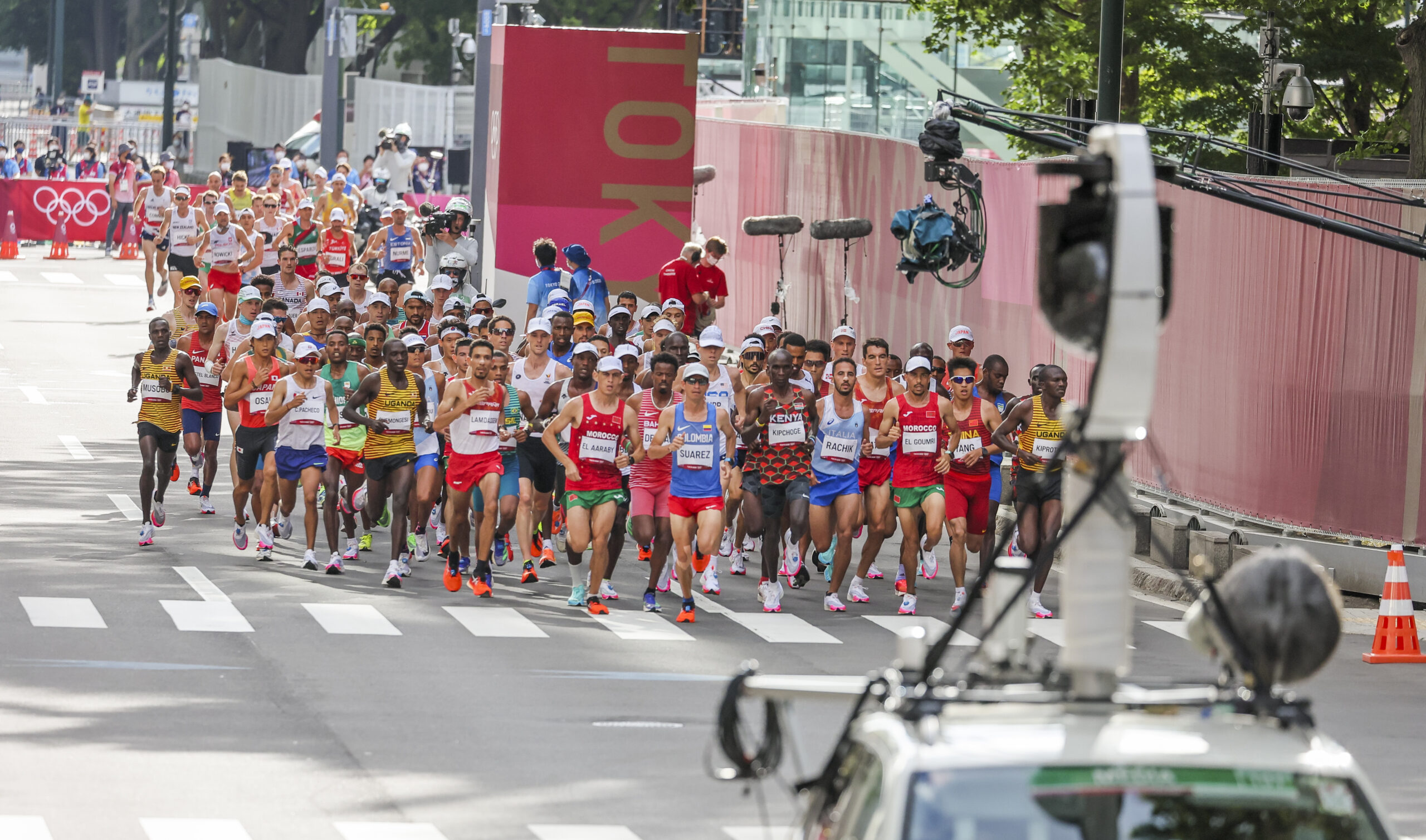 The men's marathon start was given at 7.00 in the morning. PHOTO: Karl Saul
There were 106 participants in the men's marathon of Tokyo Olympic Games. I came to 27th place (my result 2:16.16). Thus, I achieved one of my goals, i.e., finish among top 30. The course of the competition was not ideal for me, because I struggled with liver pain and water uptake. Fortunately, I managed to improve my position in the course of the entire distance, regardless of the challenges, and outrun other contestants even during the very last metres. Therefore, I achieved my second goal – not to get "hammered" and compete all the 42 km. At the beginning of the distance, I maintained a conservative position, i.e. I started slow compared to lead group, even slower than previously agreed with the coach. I ran the first 15 km alongside various contestants, then quickened the pace and caught up with the athletes falling behind from the group ahead.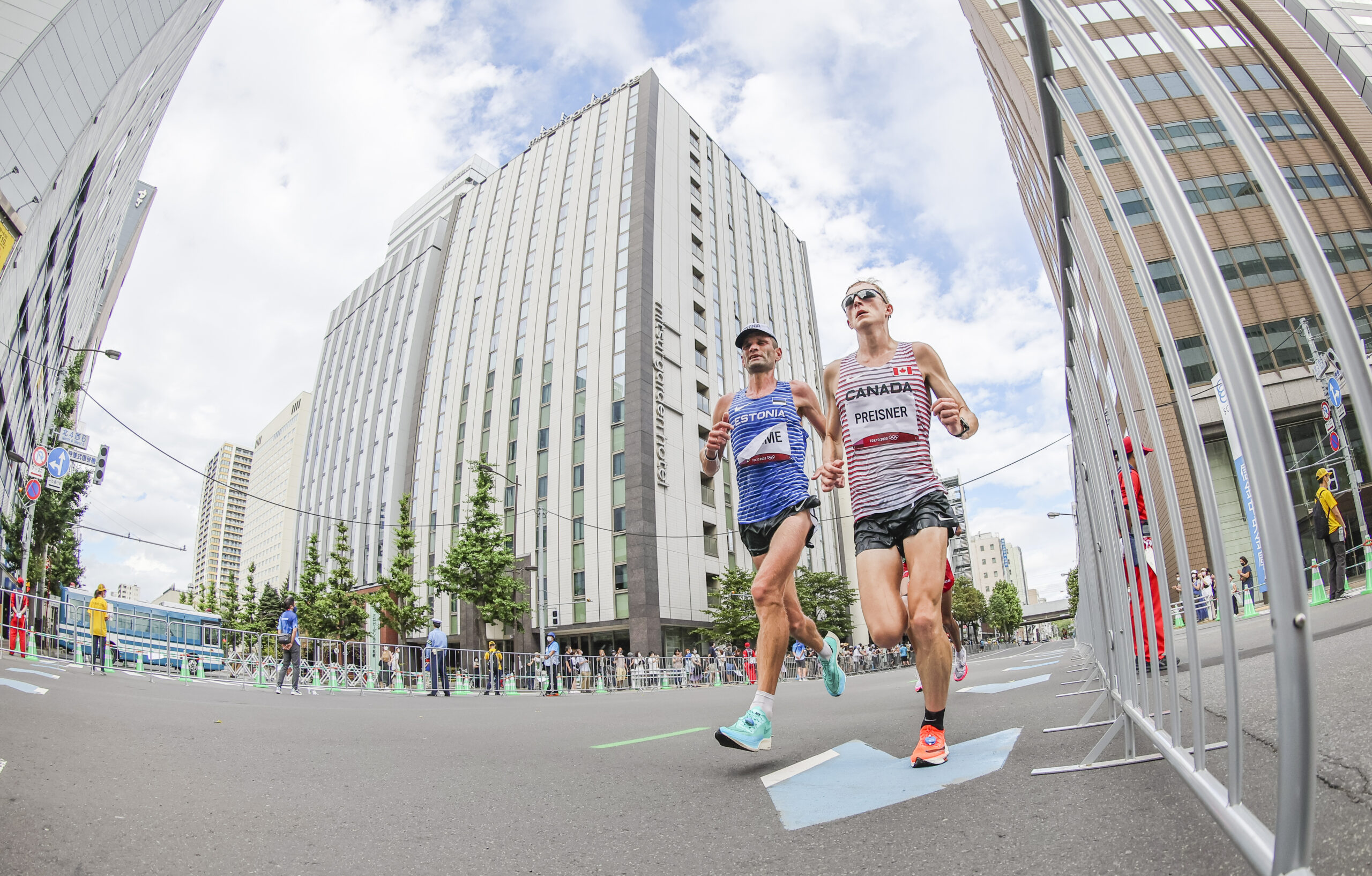 The Canadian-Estonian tandem lasted only 6 kilometers, when Preisner proposed to continue cooperation. For some reason, the man disappeared from behind. Hammer came to the man unexpectedly? PHOTO: Karl Saul
Since the 25th km I ran 6-7 km with a Canadian athlete. Then I was on my own again. I was encouraged and motivated by the runners before me, falling behind. In the meantime, I had to change the interval and quantity of liquid intake due to water reflux.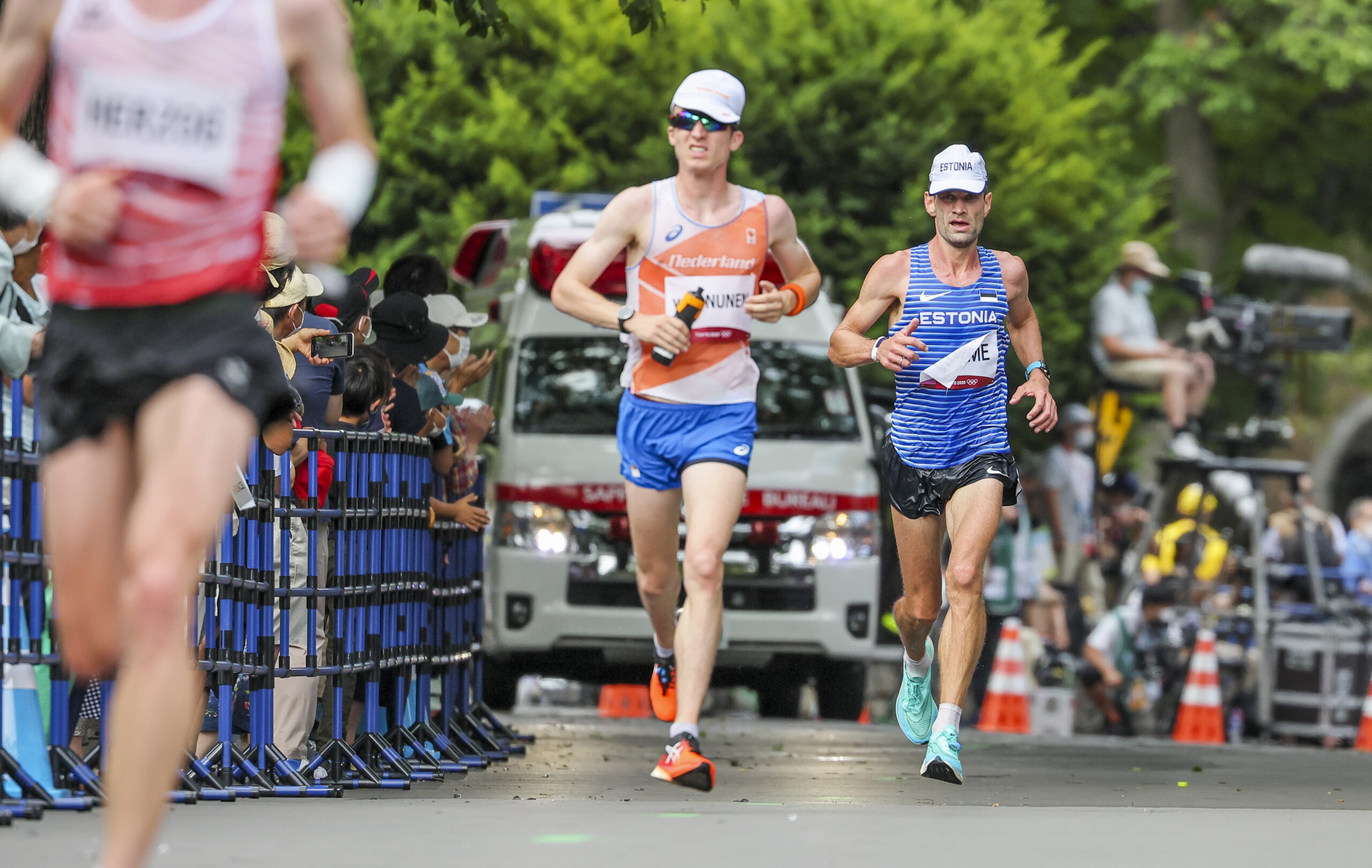 After the first kilometer, none of the runners passed me, but I did pass the others. When I was 99th at the 5-kilometer break, I had to pass … a man based on simple math. PHOTO: Karl Saul
The most difficult part of the distance was km 32 to 40 – the crucial part of the marathon. The last two kilometres were easier, because I could pass many well-known runners, perhaps even ten men during the last kilometre. All in all, I am satisfied with my performance, but in retrospect, I could have finished among the top 20 if I had made different decisions in some respects. All this confirms that I have reached a level that may lead to even higher places at the next championships.
This will definitely be my favorite photo, taken just a few meters before the finish line. I really wanted to catch another man – and I succeeded. He was 2.07 man from Israel. With that, I fulfilled one of my goals – to compete to the end.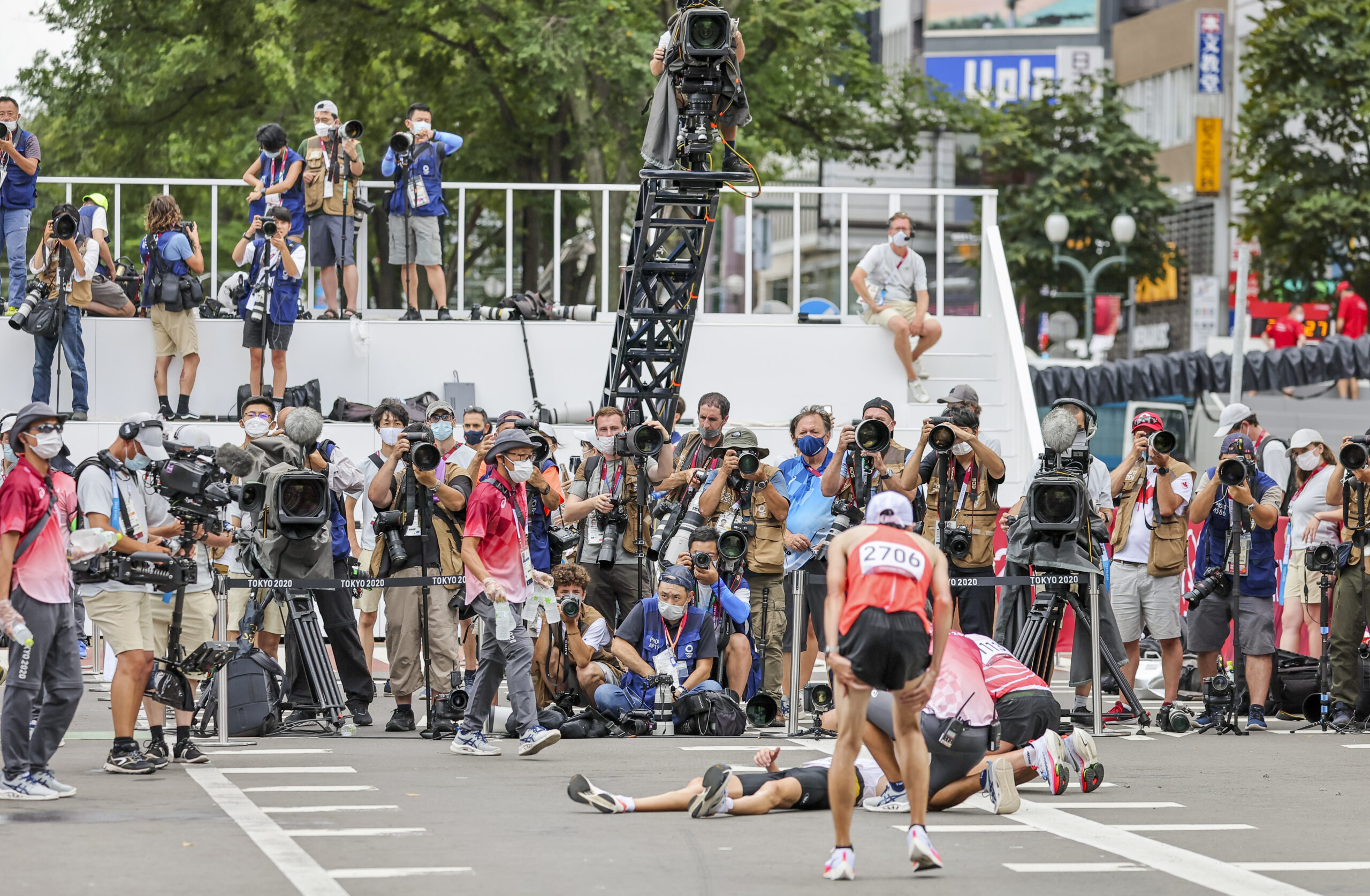 The race ended quite sadly for many, many were taken away from the finish area in a wheelchair. Unfortunately, some of the runs ended half the distance. High humidity and air temperature played a part in this. Photo: Karl Saul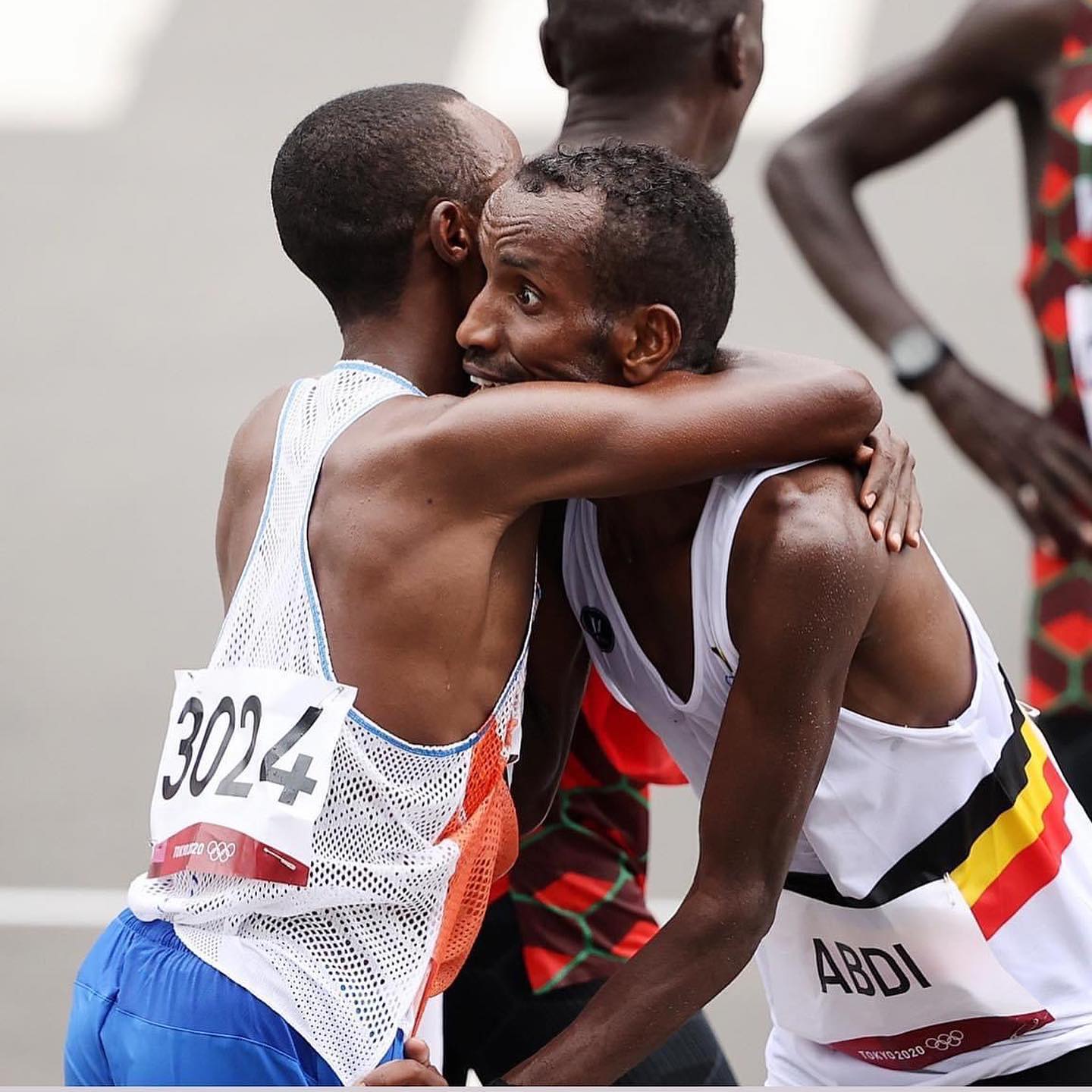 I am genuinely happy for my Somalian friends who came in second and third place. They had an excellent finish by encouraging each other and outrunning a Kenyan runner.
The marathon can be run elsewhere than at the Olympic Games, but nowhere else is as much public attention as at this event. Everyone has a role to play: sports organizations, coaches, athletes, journalists, sponsors, and so on. Finally, we are all equal partners. PHOTO: Karl Saul
I also want to congratulate my compatriot Roman Fosti, who finished his second ever Olympic marathon.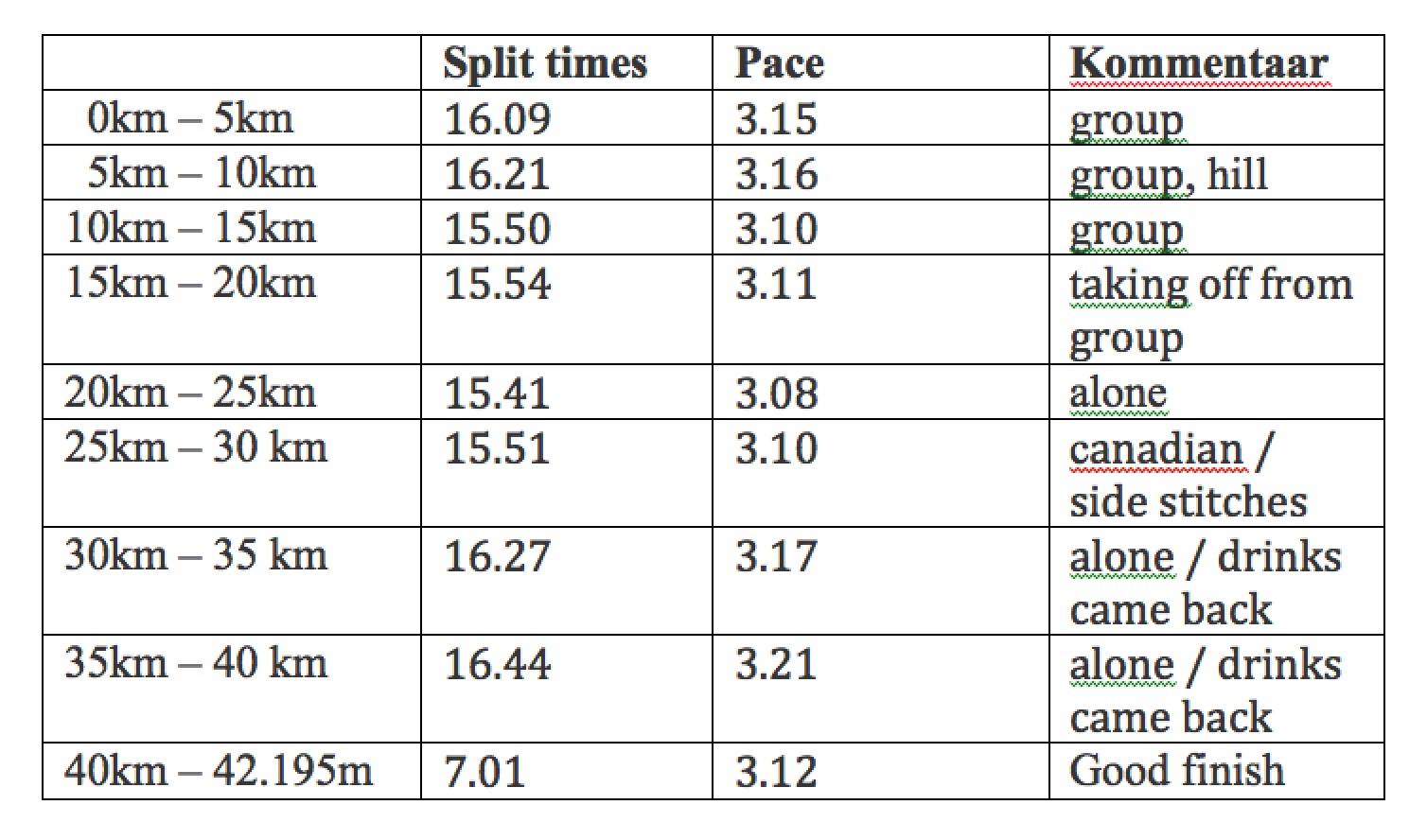 An Interview for Estonian Television
I WOULD LIKE TO THANK EVERYONE WHO ASSISTED ME IN THIS EXTRAORDINARY JOURNEY!
I would like to mention by name my current teammates:
Trainer Mark Misch
Assistant coach and manager Harry Lemberg
Manager Charles Paanakker
Spiritual mentor Brad Bartz and Nick Schuetze
Masseur Peeter Nigol
Sports medicine doctors Agnes Mägi, Nadezhda Ignatjeva and Mihkel Mardna
Wife Maili together with our children